BOULDER, Colo. — 
At least a dozen people crowded around Shedeur Sanders as he warmed up Saturday morning. Cameras and cellphones focused on the Colorado quarterback, whose thick diamond-encrusted chain adorned with his No. 2 jersey number glimmered as the sun rose over the east side of Folsom Field. Fuzzy boom microphones hung overhead near midfield.
Tucked away in the corner of the end zone without a large camera in sight, Caleb Williams, the reigning Heisman Trophy winner, stretched silently.
While Colorado has won college football's popularity contest, using head coach Deion Sanders to dethrone the original college Hollywood "it" team, quarterback Williams and No. 8 USC won where it counted Saturday: 48-41 on the scoreboard.
Williams finished with 403 yards passing, six touchdowns and one interception on 30-for-40 passing as the Trojans (5-0, 3-0 Pac-12) extended their dominance in the series to 17-0 as USC survived Colorado's second-half comeback attempt.
Shedeur Sanders, the junior quarterback who followed his coaching father from Jackson State and has captured the attention of this sleepy college town with his glittering multi-thousand-dollar diamond watch and electric play, thrilled the home crowd with 371 yards passing and three second-half touchdowns while cutting USC's 27-point second-quarter lead to 14 by the fourth quarter. He finished with four passing touchdowns and one rushing touchdown.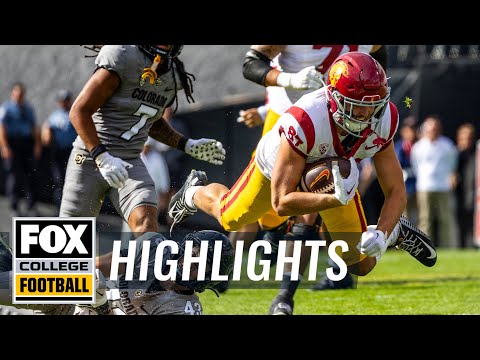 Sanders sparked the comeback with a 25-yard touchdown run with 21 seconds remaining in the second quarter. He was only getting started, leading three consecutive touchdown drives entering the fourth quarter. After Colorado's Jaylen Ellis jumped in front of an underthrown pass to grab Williams' first interception of the season, Sanders led Colorado on an 11-play, 61-yard touchdown drive, which was capped off by a nine-yard pass to Omarion Miller to cut the deficit to 14 on the first play of the fourth quarter.
The sellout Colorado crowd of 54,032 rose to full attention on USC's next drive, forcing the Trojans to take a timeout on third and five. Former NFL star Terrell Owens, dressed in a black and gold tie-dyed sweatsuit, pumped up the crowd by waving a towel on the sideline.
In the shifting college football landscape, Colorado's resurgence has been the biggest on-field storyline this season. The Buffaloes were a 1-11 eye-sore last year. With a 3-0 start under Deion Sanders, celebrities started flocking to Boulder the way they once commanded the Coliseum sideline during Pete Carroll's coaching era.
Paul Pierce, Kevin Garnett, Aaron Gordon and CC Sabathia were among the stars on the field, all wearing special Prime Passes around their necks. The golden whistle-shaped badge felt like special commodities, unlike the typical credentials that Colorado also distributed in record numbers for the most in-demand media game in Folsom Field's 100-year history.
After USC recovered Colorado's final onside kick in the final minute, Colorado fans, whose team got blown out by Oregon last week in Eugene, chanted "over-rated" as USC ran out the clock.
Bingo Blitz Credits Farming Strategies: Success Tips
Coin Master Spins Farming Strategies: Insights from Pros
genshin impact redeem codes january 2023 mobile matters
Get Free Zems on ZEPETO: Tips and Tricks
match masters arena 7 funny game like paper clash royale what
TikTok Coin Generator Safety Tips
Unlimited Gems in Brawl Stars: Myth or Reality?
new cheats dragon city free gems mod generator freemind
free family island hack cheats unlimited rubies and energy
how to get diamonds in hay day tips tricks youtube
tutorial how i get unlimited diamonds in litmatch app youtube
myths of moonrise codes september 2022 g7r
Boost Your TikTok Influence with Free Coins
Unlocking TikTok Coins: Insider Techniques
Comment obtenir légalement et rapidement des pièces gratuites sur TikTok
Maximiza tus Ganancias de Monedas TikTok con Estos Consejos
Coin Master Free Spin Generators: Fact or Fiction?
Insights from Pros: Coin Master Free Spins Farming Strategies
Avakin Life Avacoins Farming Demystified