WASHINGTON — 
After a week of bad news on and off the field, the Dodgers finally got a reprieve Friday.
A day after Mookie Betts left a game early after fouling a ball off his left foot, medical scans confirmed the star slugger suffered only a bone bruise, manager Dave Roberts said, a minor injury that should allow Betts to return to action by Monday.
Betts was injured in his first at-bat Thursday night. While he stayed in the game until the eighth inning, he left the stadium on crutches after his foot "stiffened up as the game progressed," Roberts said.
The good news: Betts underwent an X-ray on Thursday, then an MRI and CT scan on Friday that all came back clean.
"We're doing the whole gamut," Roberts said of Betts' testing. "Just to make sure we have all the information."
Even without Betts on Friday night, the Dodgers opened their series in Washington with a late-night, 8-5 victory over the Nationals, erasing a one-run deficit in the sixth inning minutes before a downpour of rain that delayed the game for 1 hour 34 minutes.
After Kiké Hernández singled and James Outman walked to lead off the sixth, Chris Taylor — who reached base three times while filling in for Betts in the leadoff spot — plated them both with a double. J.D. Martinez, back after missing almost three weeks, tacked on a sacrifice fly three batters later. Then Max Muncy feathered an RBI single into center.
Martinez, Muncy and Hernández also hit home runs earlier in the game, while Freddie Freeman made club history by collecting his 53rd double, breaking the 93-year-old single-season record.
"I haven't really soaked it all in," said Freeman, who has 15 more doubles than any other major leaguer and could become the first player since World War II to collect 60.
"This franchise has been around for a very long time, a lot of winning seasons, a lot of great players have come through here," Freeman added. "So just to be able to be mentioned with some of these guys I'm climbing the leaderboard on, it's pretty cool."
Following a team-wide slump that led to a 1-5 skid last week, the Dodgers have amassed 18 runs, 26 hits, 14 walks (plus three hit batters) and an eight-for-23 mark with runners in scoring position over their last two games, trimming their magic number to clinch the National League West Division to nine.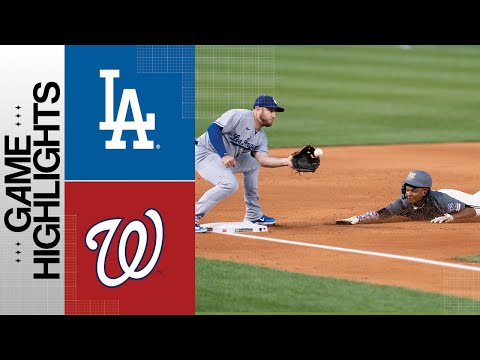 "Single digits with a few weeks to go is usually a good thing," Freeman joked.
Still, getting Betts back at full strength will be even more paramount for the Dodgers (86-54), who might need to lean on their offense in October given their inconsistent and short-handed pitching staff.
Entering Friday, Betts was batting .314, leading the league with a 1.020 on-base-plus-slugging percentage and had 38 home runs and 99 RBIs.
He was named the NL's player of the month in August. And over the last several weeks, he and Atlanta Braves outfielder Ronald Acuña Jr. have separated themselves as the NL's top MVP candidates.
Betts has missed consecutive games just twice this year — two games in April when he went on paternity leave and two in July when he had a stomach bug.
While Roberts didn't rule out Betts playing this weekend, he said the team was targeting Monday's series opener against the San Diego Padres in L.A.
Martinez returns
Three weeks after going on the injured list, and a month and a half after first experiencing a lingering tightness in his groin/hamstring area, Martinez returned to the lineup hopeful that his injury saga is behind him.
Martinez had played in just 11 of the team's previous 42 games because of recurring episodes in which his midsection would lock up after pregame activities.
After doctors first treated his back and his adductor muscles in search of the root cause of the injury, Martinez said a specialist recently identified that his tailbone was pressing on a nerve in his backside.
While the issue still "zings" occasionally, Martinez said his midsection no longer is locking up on him.
Martinez opened the scoring with a two-run homer in the first, his 27th.
"Getting back in the mix, getting into a big-league game and hitting a homer, I'm sure that was a relief for him," Roberts said.