Since joining the Miami Heat, Jaime Jaquez Jr. has proven he can catch on fire.
In July, the rookie announced himself in his only Summer League appearance with a 22-point burst that was punctuated by a poster-worthy dunk over Colin Castleton. The performance was enough for veteran sportswriter Marc Spears to immediately label Jaquez as "electric" and "a man among boys." Since that thunderous introduction, the UCLA grad has settled into his role as a key reserve player, coming off the bench for a team fresh off an NBA Finals appearance.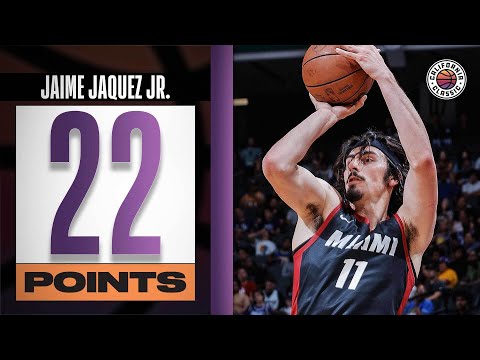 Jaquez has never been projected to become a game changing superstar like fellow rookies Victor Wenbanyama or Scoot Henderson, but he does seem to possess traits familiar to many Latinos: grit and tenacity.
For fans of Mexican heritage on both sides of the border, Jaquez's unlikely ascension is especially meaningful.
"I feel proud that we have another Mexican player in the NBA," says Laura Anna Martinez, an NBA México social media collaborator from Veracruz.
"He's the first to be chosen in the first round, so from that moment, he has already made history. Having another Mexican in the best basketball league in the world means continuing to open the way for other Latino players in the future."
There haven't been many Latinos in the NBA in its 77-year history. Despite this, Latinos have been champions — Argentina's Manu Ginobili won four rings with the Spurs; Cuban American Brook Lopez helped the Bucks win the title in 2021; and of course there is Puerto Rico's J.J. Barea, who as Bad Bunny rightly pointed out, "fue campeón antes que LeBron." Latinos have also been all-stars — future hall of famer Carmelo Anthony, whose dad is Puerto Rican, is a 10-time all-star; Dominican-born center Al Horford is a five-time all-star.
Jaquez is only the sixth nationalized Mexican to reach the league, and the second to be drafted: Eduardo Nájera was a late second-round pick in the 2000 draft. Having previously played for Mexico's national team as a dual citizen — he gained citizenship through his paternal grandmother — the former UCLA Bruin is in a rare position to elevate the status of Chicano dreamchasers inside gyms.
He is treading into largely unmapped territory, with the potential to become the best baller with a Mexican passport. With players like Jaquez and the five Mexican nationals before him (Horacio Llamas, Nájera, Gustavo Ayon, Jorge Gutierrez and Juan Toscano-Anderson) — added to the growing list of Mexican-heritage players across generations like Mark Aguirre, Earl Watson and Devin Booker — this feels like a real moment for nylon-swishing Mexican fans to rally behind.
For Angel Reyes Muñiz, a college basketball prospect whose family migrated from Puebla to New York City, Jaquez is proof that players like him are capable of making it to the league.
"They think we're just soccer players. Until you hit them with a crossover, bust their a— and earn that respect on the court." says Reyes Muñiz, who currently plays for Mexico's U-23 squad.
"The expectation is that Jaquez is ready for it," he says. "I know his work ethic is impeccable and he set the bar high for us as Mexican Americans. That's like having your boy make it; that's motivation for the rest of us."
What Jaquez has achieved — going from a four-star recruit at a relatively unknown public high school to suiting up in the NBA — isn't normal. He benefits from having grown up in a family of tough competitors, with a younger sister who now stars for UCLA, and a grandfather and both parents having played collegiate basketball.
"It was always very competitive in my household," he says. "Me and my brother. Mom and Pops. My sister. I used to 1v1 them at the park. It's in my blood."
His father, Jaime Sr., knows his children are wired differently.
"I don't think they know another gear, if that makes any sense," the elder Jaquez told The Times' Ben Bolch last year. "If someone said, 'Hey, I need you to go 75%,' all three of them would say, 'I don't know what that is.' "
Less than a month into his first NBA season, Jaquez is now receiving praise from veterans in his locker room.
"Jaime is not a regular rookie," Heat center Bam Adebayo said in a Miami Herald interview. "He's been in those games where he's needed to be a leader, he's needed to be the one option. That's throughout all those years in college. I feel like he's coming into the league ready."
In being picked by Pat Riley's Miami Heat, a notoriously hard-working unit, it seems Jaquez has found the right home. Jaquez aligns perfectly with coach Erik Spoelstra's Heat Culture philosophy, which is famous for maximizing role players who might otherwise become undervalued in other basketball systems. According to new teammate and All-NBA forward Jimmy Butler, Jaquez fits the bill.
"He's got some go," Butler told the Miami Herald. "This might be his rookie year but he's played basketball in a winning manner for so long that he's doing it on this level now."
Through it all, Jaquez has maintained a quiet humility.
"I'm just learning as I go. This is the game I played my entire life," he recently told media. "This is all I've ever wanted to do. I knew when I got my chance, I was going to be ready. That's why I did four years of college, to prepare for this, so I could be ready and confident in my ability. To go out there and make an impact right away. That was kind of my plan all along."
This mindset of rolling up your sleeves and doing the work is what fuels Reyes Muñiz — he calls Jaquez his "big bro" and even spent part of Draft Night with his hero.
"My mom works two jobs right now, know what I mean? She really be grinding," he said. "We have that hustle in us. It's about putting that opportunity in the right context. That's Mexican. We come here to get a better life and hustle till it kills us.
"He's a fighter and never gives up. That's the Mexican way. Feel me? He's gonna go beyond any measure with that."
So far, Muñiz's predictions have been on the mark. Jaquez recently turned the tide of a game by forcing a turnover on defense and rushing back for a slam on the opposite end of the court; he followed that up by nailing a game-clinching three-pointer a few minutes later to bury the Memphis Grizzlies. Days later, he notched a career-high 20 points in a win against the Atlanta Hawks.
Don't expect Jaquez to cool off anytime soon.

Bingo Blitz Credits Farming Strategies: Success Tips
Coin Master Spins Farming Strategies: Insights from Pros
genshin impact redeem codes january 2023 mobile matters
Get Free Zems on ZEPETO: Tips and Tricks
match masters arena 7 funny game like paper clash royale what
TikTok Coin Generator Safety Tips
Unlimited Gems in Brawl Stars: Myth or Reality?
new cheats dragon city free gems mod generator freemind
free family island hack cheats unlimited rubies and energy
how to get diamonds in hay day tips tricks youtube
tutorial how i get unlimited diamonds in litmatch app youtube
myths of moonrise codes september 2022 g7r
Boost Your TikTok Influence with Free Coins
Unlocking TikTok Coins: Insider Techniques
Comment obtenir légalement et rapidement des pièces gratuites sur TikTok
Maximiza tus Ganancias de Monedas TikTok con Estos Consejos
Coin Master Free Spin Generators: Fact or Fiction?
Insights from Pros: Coin Master Free Spins Farming Strategies
Avakin Life Avacoins Farming Demystified