Memo to Chip Kelly, the UCLA coach on the hot seat.
Scoot over.
Make room for Lincoln Riley.
The two men met Saturday in the crosstown rivalry, yet only one of their teams showed up.
Only one of their teams really cared about its biggest game of the season. Only one of their teams played with desperation, fought with fury, competed with heart.
It was the struggling team with the embattled leader who could be fired next week, not the privileged team with the glamorous boss who seemingly was just getting started.
It was the anonymous team that has spent years in the shadows, not the starry team with the buzz, the pedigree and a quarterback who last season won the Heisman Trophy.
It was UCLA 38, USC 20, in a game that wasn't that close with a message that couldn't be more clear.
Lincoln Riley, your honeymoon is over.
This awful loss is on you. This disappointing season is on you. The pulsating heat from a fan base that doesn't accept mediocrity is now squarely on you.
Two seasons after arriving in town as a celebrated acquisition who was going to return the Trojans to greatness, Riley couldn't even convince his team to play hard or smart against the most important opponent on its schedule.
Since going 11-1 to start his USC career, Riley is 7-7. Sink your teeth into that. Anybody have a number for Clay Helton?
Since tutoring Caleb Williams to a Heisman, Riley has basically ruined Williams' encore season with a terrible defense, an underutilized running attack, and a series of big-game embarrassments.
Blown out at Notre Dame. Stunned by Utah. Rolled by Washington. Dominated by Oregon. And now this, giving up 38 points to a Bruins offense that combined for 17 points in the previous two weeks against Arizona and Arizona State.
1
2
3
1. USC quarterback Caleb Williams gets a hug from USC backup quarterback Miller Moss during the final moments of a 38-20 loss to UCLA. 2. USC quarterback Caleb Williams leaps out of the pocket to avoid UCLA defensive linemen Gabriel Murphy (11) and Laiatu Latu during Saturday's loss. 3. USC coach Lincoln Riley claps while watching pregame warmups Saturday at the Coliseum.
Kudos, certainly, to UCLA's Kelly for summoning his team's best game at its most important moment. It was written here last week that Kelly's mediocre resume should lead to his firing, and nothing here changed that opinion, but give him credit for fighting to the end.
Meanwhile, after this debacle, some folks are thinking maybe Riley's tenure should be just as tenuous.
Not quite, but close.
After USC plays in some shell of a bowl game that will be little more than a money grab with a swag bag, Riley will be faced with large and difficult questions entering his third season.
There is rapidly decreasing faith that he can answer them.
Williams is eligible for another season, but he's going to the NFL, so Riley will need to create another star quarterback out of a little bit of Miller Moss, a little bit of Malachi Nelson, and a whole bunch of nothing. Good luck getting a top transfer to join this mess.
Riley will also need to construct a running game that was inconsistent all season before bottoming out against the Bruins with three net yards. Three! Seriously. Three!
Then there is his biggest challenge, a defense that he allowed to humiliate his program this season because of his loyalty to coordinator and close pal Alex Grinch. Well, Grinch was fired and guess what? The Trojans still allowed the Bruins to roll them for 199 rushing yards in a game that felt finished after UCLA took a 14-0 lead in the first quarter.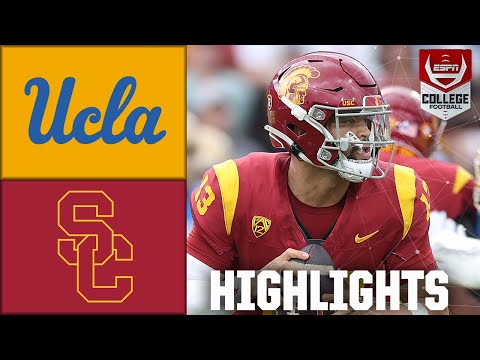 Highlights from UCLA's 38-20 win over USC at the Coliseum on Saturday afternoon.
There's so many challenges awaiting, it is fair to wonder if Riley is up for them all. He's great with quarterbacks but with everyone else? Not so much. Does he have the ability to radically alter his philosophy and expand his expertise? Does he have the bandwidth? Does he have the motivation?
There is some thought that maybe this is the perfect time for Riley to make the long-predicted leap to the NFL, especially since a losing team such as the Chicago Bears could be in the market not only to make Williams the first pick, but to hire Riley to join him.
Of course, there is also the thought that this season has seriously damaged his immediate NFL hopes. When he left his first job at Oklahoma to rebuild USC, it was his first chance to show he could direct a program that would rise from the ashes. It was his first chance to show he was a complete head coach, not just a quarterback whisperer. So far, in this regard, he has miserably failed.
Whether or not he leaves, Riley is certainly wearing out his welcome here, and he knows it.
After Saturday's game, he threw himself on his Trojans sword and literally swore he would be better. It was if he were speaking directly to an increasingly dubious Trojans family, trying to keep them from giving up on him.
For some, it might already be too late.
"Extremely disappointing to finish this way. … I know our guys are disappointed, coaches are disappointed, I'm disappointed, I know our fans are disappointed and they should be," Riley said.
"There's no excuses. It's below what we expect here, it's below the standard, and I've got to do a much better job. I own all that and I'm going to fight my ass off in every single way to make sure this thing gets to where it's supposed to be."
After a game in which USC committed three turnovers and gave up four sacks while UCLA's defensive line consistently pressured Williams, Riley was asked if he could have done more during this final regular-season stretch of five losses in six games.
He said yes. Good thing, because his coaching performance screamed yes.
"To not give yourself a chance like today, it's unacceptable," Riley said. "So I've got to be better. There's no way to look at this and say I did any kind of a good job and got the result that we did in the second half of the season. So I've got to be better in every single way possible."
Agreed, in every way possible.
One of the umpteenth ways Riley could be better is in making his players, some of whom are paid handsomely, to be more accountable.
After Saturday's game, for the third time this season, Williams didn't speak to reporters. He threw for 384 yards and a touchdown with an interception, but he will remembered here for refusing to publicly support his crestfallen teammates and accept any responsibility after what could be his last game as a Trojan.
It was another missed educational opportunity for the college athlete. It was another blown call by the coach. It was another reason there is reason to wonder if Lincoln Riley is truly the right man for this job.
Heads up, Chip Kelly.
Company's coming.
Bingo Blitz Credits Farming Strategies: Success Tips
Coin Master Spins Farming Strategies: Insights from Pros
genshin impact redeem codes january 2023 mobile matters
Get Free Zems on ZEPETO: Tips and Tricks
match masters arena 7 funny game like paper clash royale what
TikTok Coin Generator Safety Tips
Unlimited Gems in Brawl Stars: Myth or Reality?
new cheats dragon city free gems mod generator freemind
free family island hack cheats unlimited rubies and energy
how to get diamonds in hay day tips tricks youtube
tutorial how i get unlimited diamonds in litmatch app youtube
myths of moonrise codes september 2022 g7r
Boost Your TikTok Influence with Free Coins
Unlocking TikTok Coins: Insider Techniques
Comment obtenir légalement et rapidement des pièces gratuites sur TikTok
Maximiza tus Ganancias de Monedas TikTok con Estos Consejos
Coin Master Free Spin Generators: Fact or Fiction?
Insights from Pros: Coin Master Free Spins Farming Strategies
Avakin Life Avacoins Farming Demystified