NEW YORK — 
Maybe the Clippers can petition the NBA to change its rules so that two balls are in play at the same time.
Otherwise, how will the James Harden experiment work?
The assumption Monday night after their 111-97 loss to the New York Knicks was that the Clippers could only get better from here, but was there actually any basis to suppport that conclusion?
They have four future Hall of Famers and only one basketball, the mathematical problem coach Tyronn Lue has to solve coming into sharper focus during the lopsided defeat at Madison Square Garden.
Harden and Russell Westbrook played well, but Kawhi Leonard was such a non-factor in the first half that Lue had to order his players to force feed him in the third quarter. Fourteen of Leonard's team-high 18 points were scored in the second half.
Paul George never developed any sort of rhythm.
While the shot distribution figures to change on a game-by-game basis for a team like this, Lue said Leonard was the one player in the Big Four who had to have the ball every night.
"I mean," Lue said, "he's the best player."
Lue is right, and the importance he places on keeping Leonard involved is entirely understandable. But it could also produce other problems. George, Harden and Westbrook can all score, but they all require consistent touches.
George was the one who didn't get them on Monday, and it showed. He scored just 10 points on 2-of-11 shooting.
Harden and Westbrook scored 17 points each, and — coincidentally or not — they were the two players who had the ball in their hands the most.
Harden didn't sound particularly concerned about how often Leonard shot.
"T-Lue does a really good job of that," Harden said. "But for me, especially when I'm in a pick-and-roll, I think just generating and creating the best shot available, whoever's open. The defense dictates that so for me, not really worried about it."
For his part, Leonard didn't sound worried either.
"It's gonna be like that," he said of stretches in which he doesn't touch the ball. "We have guys that can score the ball. Won't be the only one. I just gotta be ready when my opportunity comes."
The greater challenge could be on the boards. Fielding a starting lineup of the Big Four plus center Ivica Zubac, the Clippers allowed the Knicks to grab 18 offensive rebounds.
"The same thing has been killing us the last couple years, just rebounding the basketball," Lue said.
The shortcoming was magnified even more in the third quarter when Knicks forward Julius Randle crashed into backup center Mason Plumlee's left leg in pursuit of a loose ball. Plumlee, who had to be carried off the court by trainers, was initially diagnosed with a sprained knee. He was scheduled to undergo further examination.
The Clippers extended their lead to 66-62 on the play Plumlee was injured. They were outscored 49-31 the remainder of the game.
"It kind of messed us up going small," Leonard said.
Lue was also bothered by his team's 22 turnovers, but that looked like the function of integrating a new player.
"Just basically winging it," was how Harden described his Clippers debut, and that's what it looked like.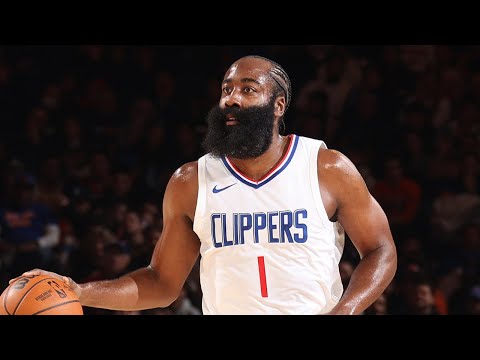 His increased familiarity with his teammates, and theirs with him, should take care of that.
Another source of encouragement was Harden's form.
Harden was almost six months removed from his last game and basically didn't have a training camp as he was in the process of forcing his way out of Philadelphia. Yet, the 34-year-old played 31 minutes and would have played more if Lue hadn't thrown in the figurative white towel by removing his starters with 4:25 remaining in the game.
Harden made 6 of 9 shots, including 2 of 4 threes, and registered six assists.
He was upbeat after the game, even joking when asked about his conditioning.
"First couple minutes, I was tired," he said with a chuckle.
Harden maintained these Clippers have "unlimited opportunities."
Lue shared similar feelings. He mentioned some of the positive developments he observed on the court.
"Offensively, just having the ball in James' hand," Lue said. "I think second half we did a better job of advance passes and attacking early in transition. We got a lot of stops in the first half. We never threw the advance pass to attack early, so that was better for us in the third quarter."
Lue said he expected the team to find its rhythm in 10 games.
"Like I said, it's going to be a process," Lue said. "I love the process that we gotta go through to get to where we want to get to, and we're gonna get there for sure."
At this point, his faith felt as if it was based more on the high-profile names on his roster than what he saw. Time could prove him right. If not, this visit to Madison Square Garden will be remembered not as the start of the championship run they envisioned, but as the start of the Clippers' latest Dumpster fire.
Bingo Blitz Credits Farming Strategies: Success Tips
Coin Master Spins Farming Strategies: Insights from Pros
genshin impact redeem codes january 2023 mobile matters
Get Free Zems on ZEPETO: Tips and Tricks
match masters arena 7 funny game like paper clash royale what
TikTok Coin Generator Safety Tips
Unlimited Gems in Brawl Stars: Myth or Reality?
new cheats dragon city free gems mod generator freemind
free family island hack cheats unlimited rubies and energy
how to get diamonds in hay day tips tricks youtube
tutorial how i get unlimited diamonds in litmatch app youtube
myths of moonrise codes september 2022 g7r
Boost Your TikTok Influence with Free Coins
Unlocking TikTok Coins: Insider Techniques
Comment obtenir légalement et rapidement des pièces gratuites sur TikTok
Maximiza tus Ganancias de Monedas TikTok con Estos Consejos
Coin Master Free Spin Generators: Fact or Fiction?
Insights from Pros: Coin Master Free Spins Farming Strategies
Avakin Life Avacoins Farming Demystified