There's a resoluteness to Ducks coach Greg Cronin that has rubbed off on his players and made them believers in him and in themselves.
It's early in the season, as he frequently says, but his influence was evident Sunday in the Ducks' impressive 4-2 victory over the defending Stanley Cup champion Vegas Golden Knights at Honda Center, another jewel in a shiny six-game winning streak built on gutsy comebacks against some of the NHL's premier teams.
Maybe Cronin's patience comes from having toiled for so long in the minor leagues, in college rinks and as an NHL assistant coach, a journey that didn't bring him an NHL head coaching job until he was 60. Maybe his firmness comes from his instincts to be a teacher and to be fair, to not play favorites and stick to his principles when he easily could give in to superstars who have greater job security than most coaches do.
When creative young forward Trevor Zegras played shoddy defense in a game at Columbus last month, Cronin didn't hesitate to bench him for the third period. When dynamic center Mason McTavish made a bad decision during four-on-four play Sunday that gave Vegas an outnumbered rush, Cronin made sure McTavish — a cornerstone of Ducks' future — knew he had goofed.
"I bit his ear off," Cronin said. "You have guys that are talented, and I'm a big believer as a coach when those guys make mistakes and they hear about it, the other team knows that there's a firmness to the messaging that they're all accountable to. And he's the one that will lead the parade back to changing the way he's playing, so the whole team plays the right way."
Which, of course, McTavish did, scoring the third goal in the four-goal rally that handed Vegas (11-1-1) its first regulation loss this season.
"He's done a great job kind of starting to change that culture here," forward Alex Killorn, who made his injury-delayed Ducks debut Sunday, said of Cronin.
"We practice really hard and at times you can get tired of it, but you know when you're winning and things are going the right way, it's all worth it. And he wants us to play at a certain level, and to do that we have to practice at a certain level and it's been showing results, so it's been great so far."
The Ducks are the second team in NHL history to win six straight games that included third-period comebacks in at least five of those victories, matching the 2018-19 Buffalo Sabres. That streak includes a late comeback in Boston against the Bruins, the regular-season points leaders last season.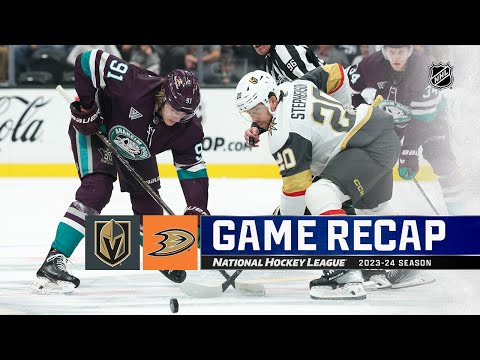 They're 7-4-0 as they prepare to face the Pittsburgh Penguins on Tuesday at Honda Center. They didn't record their seventh win last season until Dec. 6, a result that "lifted" their record to 7-17-3.
"The fact that we've been able to come back I don't know how many times, it feels like a lot, but it just goes to show the character of the group here," said Sam Carrick, who scored the Ducks' second goal off a heady play and great feed from 19-year-old defenseman Pavel Mintyukov and later scored into an empty net. "Never quitting, never giving up. We just believe in each other. It doesn't matter if it's a one-, two-, three-goal lead, we've got a chance to come back."
Their success to date after five non-playoff seasons is refreshing. Entertaining. Their special teams play has improved (they've neutralized all eight disadvantages in their last two games and scored on three of six power plays) and they received exceptional goaltending Sunday from John Gibson, who stopped 30 shots.
This was an important game for a team that's still exploring its limits. If Zegras (one goal and two points this season) ever wakes up and defenseman Jamie Drysdale returns from injury, the Ducks could contend for a West playoff spot if they can stay at or near this level.
"Every game is a measuring-stick game," Carrick said. "We're not focusing too much on the other teams. More so on ourselves and things that we can improve on and things we're doing well to continue to build on. It doesn't matter who we're playing, whether it's these guys or anyone else. We're looking to bring our best and every game is huge."
Cronin acknowledged it was a chance to measure where his team stands, and said he went into it with "a little fear" based on Vegas' 7-0 rout of Colorado on Saturday. He stuck to what he knows best. "I can't worry about them as much as I worry about our preparation and execution," he said.
He wondered, too, if the Ducks' flat performance in the first period Sunday was because he overworked them in practice. But the confidence in their hearts and heads overcame any reluctance they had in their legs. He spoke. They listened and adjusted and won.
"I've said this since training camp: the game's mental. It's about belief in one another. It's about believing in a system and executing the system," Cronin said. "And obviously we have enough talent to convert the effort and intensity that we're bringing into games to score goals and defend goals.
"And it's still early. I told them at the end of the game, 'It's a great win. You put it in your pocket and you get ready for the next one.' "
No question, he will make sure they're ready. Cronin has made the Ducks competitive and watchable again, and that's a welcome change.
Bingo Blitz Credits Farming Strategies: Success Tips
Coin Master Spins Farming Strategies: Insights from Pros
genshin impact redeem codes january 2023 mobile matters
Get Free Zems on ZEPETO: Tips and Tricks
match masters arena 7 funny game like paper clash royale what
TikTok Coin Generator Safety Tips
Unlimited Gems in Brawl Stars: Myth or Reality?
new cheats dragon city free gems mod generator freemind
free family island hack cheats unlimited rubies and energy
how to get diamonds in hay day tips tricks youtube
tutorial how i get unlimited diamonds in litmatch app youtube
myths of moonrise codes september 2022 g7r
Boost Your TikTok Influence with Free Coins
Unlocking TikTok Coins: Insider Techniques
Comment obtenir légalement et rapidement des pièces gratuites sur TikTok
Maximiza tus Ganancias de Monedas TikTok con Estos Consejos
Coin Master Free Spin Generators: Fact or Fiction?
Insights from Pros: Coin Master Free Spins Farming Strategies
Avakin Life Avacoins Farming Demystified