There is little doubt that the racing career of White Abarrio has had its share of ups and downs. In March, he dropped to the allowance level after six straight losses. Then his trainer was suspended. He was then transferred to a trainer who was coming off a 10-year suspension.
On Saturday at Santa Anita, some of that fell away as he won the $6-million Breeders' Cup Classic.
The saga of White Abarrio began in Florida last year when the colt won the Florida Derby for trainer Saffie Joseph Jr. Expectations were high, but his trip to the Kentucky Derby did not go well as he finished 16th. He never found his stride the rest of the year as he struggled through the next five races before Joseph dropped him to an allowance level this year at Gulfstream, where he won.
Then when Joseph took his string of horses to Churchill Downs around this year's Kentucky Derby, he had two horses drop dead. No leg breaks, just sudden death. Joseph was suspended by Churchill Downs on May 4. He was reinstated June 30.
The owners of White Abarrio knew they had to make a change in trainers and they chose Rick Dutrow, who earlier in the year came off a 10-year suspension after New York racing officials charged him with medication and administrative violations, including finding syringes with unauthorized medication in his barn. Dutrow was reinstated on Jan. 17. White Abarrio was transferred to Dutrow on May 23.
The horse immediately improved to finish third in the Met Mile and then won the Whitney Handicap. And now, the Classic.
"I don't feel that I am back at the top, but I feel that the white horse is," Dutrow said. "I'm just hanging around him. As soon as I get stables like Todd [Pletcher] and Chad [Brown], then I'll feel like I'm back on the top.
"Right now I just feel like I'm lucky to be around him. I feel he's on the top, and I love being around good horses like that. It just makes you feel like a good horseman, and that's always what I wanted to be."
Dutrow previously won the Classic in 2005 with Saint Liam.
White Abarrio, with Irad Ortiz Jr. in the saddle, had a near perfect trip Saturday as front-runners Arabian Knight and Saudi Crown put up some fast times through the early stages of the 1 ¼-mile race. Sitting in third was the perfect place to be as the speed in front of him collapsed. He motored past the fading horses and won by a comfortable length.
He paid $7.20 to win. Derma Sotogake was second followed by Proxy, Arabian Knight, Ushba Tesoro, Bright Future, Senor Buscador, Dreamlike, Zandon, Saudi Crown, Clapton and Missed the Cut.
One of the biggest cheers of the day came in the $1-million Dirt Mile when Cody's Wish survived a stewards' inquiry to put an exclamation point on the fairytale story of a boy and horse. Cody's Wish was named for Cody Dorman, a 17-year-old who was born with Wolf-Hirschhorn syndrome, a condition that leaves a person wheelchair bound and unable to speak. As part of a Make-A-Wish program with Keeneland, Cody was introduced to the then unnamed horse as a foal, who first nuzzled the boy's hand before putting his head in his lap.
The next year, the horse was named Cody's Wish. Saturday was his last race before he will be sent off to stallion duty. In a couple of years there will no doubt be a lot of other horses with Cody in the name.
"In a lot of ways, I think that horse saved Cody's life," said Kelly Dorman, Cody's father. "I know him and the horse have made a lot of lives better. … The blessing is the day that Cody's Wish put his head in Cody's lap."
Hall of Fame trainer Bill Mott, who trained the legendary Cigar, was asked if Cody's Wish has been his best storyline in his career.
"If it's not the best, it's certainly a dead heat," Mott said. "It's probably one of the most memorable rides that we've been on, and I think it's meant so much to many different people."
The race unfolded like so many other of Cody's Wish's races. He was off slow, trailed around the clubhouse turn and then started to pick off horses down the backstretch. He was in striking distance entering the stretch but National Treasure, who led from the start, would not give up the lead. With about 100 yards to go, Cody's Wish pulled even and put his head in front, but National Treasure came back before coming up a nose short.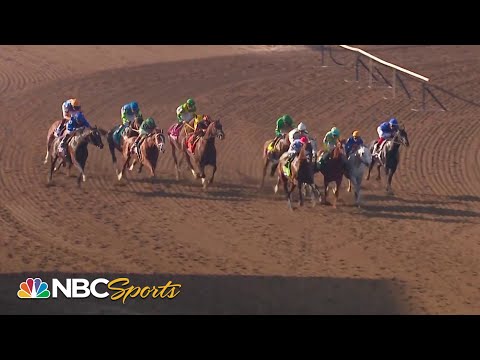 The three stewards debated the winner for about five minutes before unanimously deciding that the contact was initiated by both horses and let the result stand. Cody's Wish, who won this race last year, was the favorite and paid $3.60 to win.
Idiomatic ($5.60 to win) made her case for horse of the year by winning the $2-million Distaff, which is for fillies and mares going 1 1/8 miles. It was her eighth win in nine races this year. Idiomatic and Randomized ran one-two the entire race with Randomized leading until the stretch. The winning margin under jockey Florent Geroux was half a length.
"It's horse of the year, not horse of the fall, horse of the summer, horse of the spring or horse of the Breeders' Cup," trainer Brad Cox said. "She's had a tremendous year from the start to finish. Today was just icing on the cake."
In other Breeders Cup races:
— Inspiral ($7.00) won the $2-million Filly & Mare Turf over 1 ¼ miles with a furious late rally to beat Warm Heart by a neck. It was the 15th Breeders' Cup win for jockey Frankie Dettori and sixth for trainer John Gosden.
— Goodnight Olive ($4.20) defended her title in the $1-million Filly & Mare Sprint at seven furlongs by beating late running Yuugiri by 2 ¾ lengths. It was the 18th Breeders' Cup win for both jockey Ortiz and trainer Brown.
— In a finish that was so close it was difficult to pick the winner without replay, Master of The Seas ($8.60) came from 11th at the top of the stretch to beat Mawj by a nose to win the $2-million Turf Mile for trainer Charlie Appleby and rider William Buick.
— Auguste Rodin ($7.00) gave trainer Aidan O'Brien and jockey Ryan Moore their second win of the two-day event when the 3-year-old colt won the $4-million Turf at 1½ miles by three-quarters of a length.
— Nobles ($26.00) snuck through on the inside to win the $1-million Turf Sprint at five furlongs for trainer Larry Rivelli and jockey Gerardo Corrales.
— In the last Breeders' Cup race of the day, Elite Power ($5.40) unleashed a powerful drive on the outside to repeat as champion in the $2-million Sprint at six furlongs for Mott and Ortiz.
The Breeders' Cup comes back to Southern California next year with the races at Del Mar.
Bingo Blitz Credits Farming Strategies: Success Tips
Coin Master Spins Farming Strategies: Insights from Pros
genshin impact redeem codes january 2023 mobile matters
Get Free Zems on ZEPETO: Tips and Tricks
match masters arena 7 funny game like paper clash royale what
TikTok Coin Generator Safety Tips
Unlimited Gems in Brawl Stars: Myth or Reality?
new cheats dragon city free gems mod generator freemind
free family island hack cheats unlimited rubies and energy
how to get diamonds in hay day tips tricks youtube
tutorial how i get unlimited diamonds in litmatch app youtube
myths of moonrise codes september 2022 g7r
Boost Your TikTok Influence with Free Coins
Unlocking TikTok Coins: Insider Techniques
Comment obtenir légalement et rapidement des pièces gratuites sur TikTok
Maximiza tus Ganancias de Monedas TikTok con Estos Consejos
Coin Master Free Spin Generators: Fact or Fiction?
Insights from Pros: Coin Master Free Spins Farming Strategies
Avakin Life Avacoins Farming Demystified