A cameraman and his assistant, carrying a boom microphone, kept following 6-foot-6 sophomore guard Alijah Arenas of Chatsworth High around the gym at Crossroads, treating the 16-year-old as if he were starring in a reality TV program. The only thing missing was a makeup artist carrying face powder.
"He doesn't care about this filming stuff," coach Dax Grooms said. "He just wants to play basketball."
In this era of TikTok, Instagram and SnapChat, top teenage basketball players are much in demand, and Southern California is loaded with outstanding players from the class of 2026 receiving the celebrity treatment.
Besides Arenas, there's Lynwood's Jason Crowe Jr., St. Bernard's Tajh Ariza, St. John Bosco's Brandon McCoy, Gardena Serra's Maximo Adams, Crean Lutheran's Kaiden Bailey, Mater Dei's Brannon Martinsen and Redondo Union's SJ Madison.
Many have become good friends from competing against each other or playing together on club teams and at camps. They're fierce competitors on the court, then fist-bump, hang out and text each other off the court.
"We all pretty much live the same lives," McCoy said. "We just laugh about it."
Arenas and Ariza have NBA ties through their fathers, Gilbert and Trevor, former players who show up to their games, offer support and advice, and occasionally get autograph requests. Like their sons.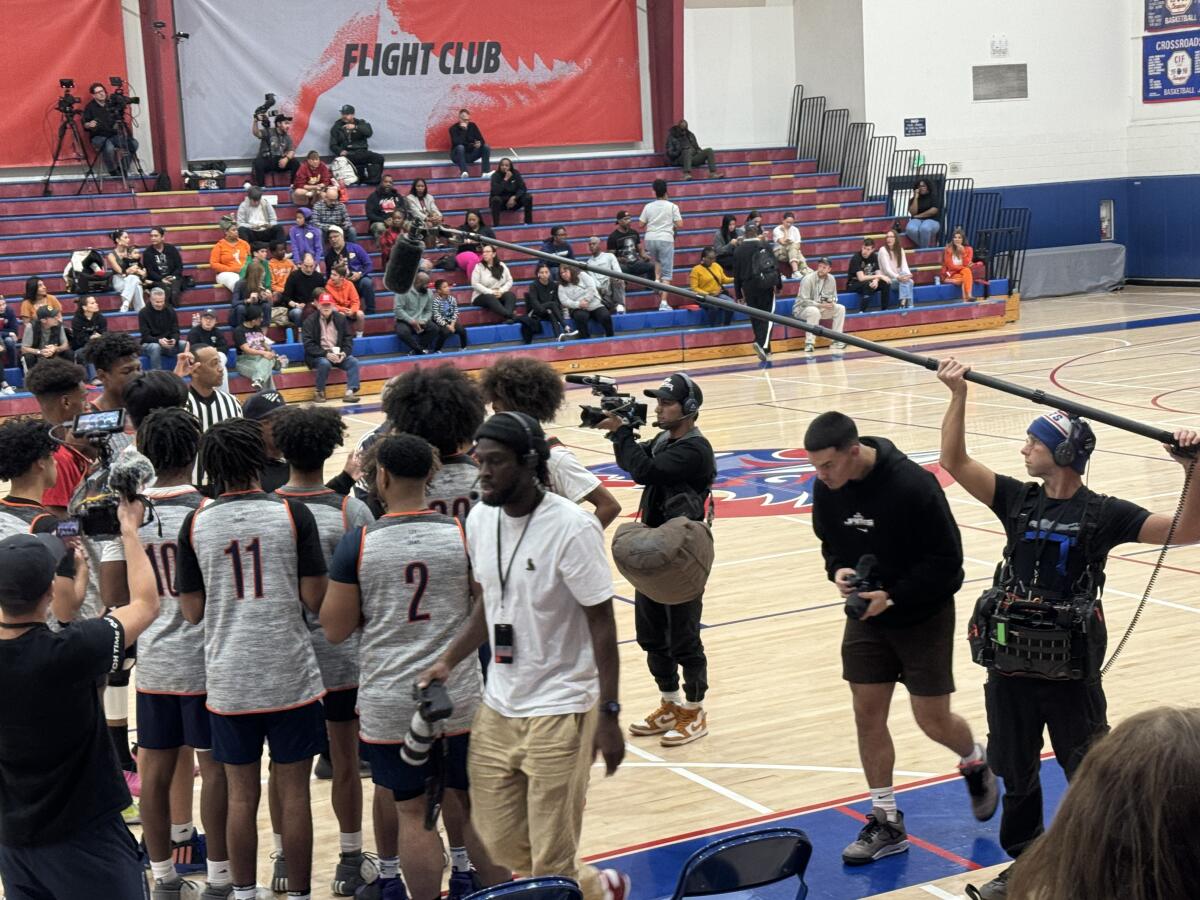 Alijah never gets to feel comfortable, because his sister, Izela, is a star guard at Sierra Canyon who wakes up at 4 a.m. to practice and swears she can beat Alijah in a game of one on one. "He plays no defense," she said.
Those are motivation words in the Arenas family.
"I'm always at his games. I'm always screaming for him," Izela said.
Arenas is so productive as an offensive player that he's likely to lead the City Section in scoring. His team hasn't been one of the best in the City, but his father, who starred during his high school days at Grant High, wants him to learn how to deal with double teams, learn to be a leader and learn what to do when things get difficult. And Chatsworth might be good enough to be an Open Division team this season in the wide-open City Section.
"There's only so much energy in his body," Grooms said about expectations for Arenas.
Like LaMelo Ball when he was a young player at Chino Hills, Arenas' offensive talent generates excitement and one day he'll be the all-around player that can propel his game to bigger and better things.
"Playing at USA basketball is big for me," he said. "All the top prospects are there. It's fun. We really get to compete and get at it. That's where I have to show off my skills, playing defense, effort, talking, everything I'm not comfortable of doing. They push me, so then I take it back and work on it. I feel my effort controls how I'm going to play."
Watching the class of 2026 grow physically, mentally and emotionally is going to be one of the intriguing story lines for this season and beyond. Patience is required but there are so many eyes and cameras on the players that it's going to test their understanding of what it takes to be really good in basketball and stay focused on long-term goals.
Said Martinsen: "Living in California, you have so many cameras, so many camps, so many games. On top of that, we've all grown up with each other. When you've been playing against each other since fifth grade, you're looking to see who's going to blow up, who's going to grow a few inches."
Crowe averaged 34 points for Lynwood as a freshman. Martinsen averaged 12.4. McCoy averaged 8.5 points in 15 games after moving from Northern California and is much stronger now. Bailey was a scoring machine for Crean Lutheran. Ariza has continued to grow and get stronger. Adams, the younger brother of former Narbonne star Marcus Adams, starts anew at Serra. Madison is learning from coach Reggie Morris Jr., who tutored Russell Westbrook at Leuzinger.
Arenas seems ready for the double and triple teams coming
"My dad threw me into situations like that playing with older kids and adults," he said.
As far as teams, Harvard-Westlake, the defending Open Division state champion, is going to face competition from St. John Bosco, Corona Centennial, Eastvale Roosevelt and Mater Dei.
In the City Section, the talent level has dropped considerably after recent coaching changes at Taft, Fairfax and Westchester, the dominant programs for years. Palisades had nine players transfer to the school in the offseason. After a City Section investigation, several were declared ineligible and the head coach is no longer running the program.
It's parity time in the City Section, which isn't necessarily bad. Birmingham and King/Drew, aided by stable coaching staffs, could be the teams to beat.
Bingo Blitz Credits Farming Strategies: Success Tips
Coin Master Spins Farming Strategies: Insights from Pros
genshin impact redeem codes january 2023 mobile matters
Get Free Zems on ZEPETO: Tips and Tricks
match masters arena 7 funny game like paper clash royale what
TikTok Coin Generator Safety Tips
Unlimited Gems in Brawl Stars: Myth or Reality?
new cheats dragon city free gems mod generator freemind
free family island hack cheats unlimited rubies and energy
how to get diamonds in hay day tips tricks youtube
tutorial how i get unlimited diamonds in litmatch app youtube
myths of moonrise codes september 2022 g7r
Boost Your TikTok Influence with Free Coins
Unlocking TikTok Coins: Insider Techniques
Comment obtenir légalement et rapidement des pièces gratuites sur TikTok
Maximiza tus Ganancias de Monedas TikTok con Estos Consejos
Coin Master Free Spin Generators: Fact or Fiction?
Insights from Pros: Coin Master Free Spins Farming Strategies
Avakin Life Avacoins Farming Demystified