The World Series is over. Shohei Ohtani is officially a free agent.
What now?
It's the root question many around baseball — fans, reporters and pundits alike — will ponder until the dust settles on Ohtani's free agency sweepstakes. There will be no shortage of rumors about what Ohtani will or will not do, or voices saying what the two-way megastar should or should not do.
Until Ohtani makes his decision on which team to sign with, here are seven things to keep in mind as the show continues.
How does the free-agent process begin?
Before Ohtani's free agency frenzy gets wholly underway, the first five days after the conclusion of the World Series will be the Angels' time. In that window, sometimes referred to as the "quiet period," the Angels have exclusive rights to negotiate a contract to retain Ohtani. Other teams are allowed to inquire about and express interest in Ohtani to his representatives, though no other team is allowed to make an offer.
Also within that five-day period, the Angels are expected to extend Ohtani a one-year qualifying offer. The offer, a set figure across MLB, will be worth the amount of the average salary of MLB's 125 highest-paid players of the year — about $20.3 million, a person with knowledge of qualifying offers, but unauthorized to speak publicly about them, told The Times. Any player, after receiving a qualifying offer, then has until 1 p.m. PST on Nov. 14 to accept it. Considering that Ohtani received a record-setting $30-million deal to avoid arbitration last year, Ohtani probably will decline the offer.
If the Angels are unable to negotiate a deal for Ohtani's return, and if and when Ohtani declines his qualifying offer, the Angels will then join the pool of other teams vying for his attention in free agency. Extending a qualifying offer is still beneficial for the Angels. If Ohtani declines it and signs elsewhere, the Angels will receive a compensatory draft pick in the 2024 MLB draft. The non-Angels team that signs Ohtani in free agency will lose one or more draft picks (depending on luxury tax thresholds compared to 2023).
Ohtani and his representatives can begin negotiating with other teams after that five-day period following the conclusion of the World Series. General managers meetings are scheduled for Tuesday to Thursday next week in Scottsdale, Ariz., as baseball's offseason shifts into high gear. The most valuable player award winners will be announced Nov. 16, and Ohtani is expected to win his second MVP in three seasons. Baseball's winter meetings will take place in Nashville on Dec. 4-7.
How long are the odds for the Angels?
The Angels, much like the other teams expected to be in the mix for Ohtani, think they have a good chance to re-sign him. For what it is worth, the Angels are in the middle of a manager search, and according to multiple agents around baseball, knowing who a manager is can impact a free agent's decision. The Angels' front office also lacks long-term stability, with general manager Perry Minasian in the last year of his contract.
Part of the narrative this season was about how the Angels needed to reach the postseason to prove to Ohtani he could win with them. Despite falling well short of that goal again this season, the Angels' remaining allure is how comfortable Ohtani has become, over the last six years, with the same team that has allowed him to pitch and DH despite his history of elbow issues.
Nevertheless, it is important to remember that Ohtani has said that his priority is winning. If Ohtani leaves the Angels, Minasian would also need to figure out how to replace a player who became the team's pitching ace in 2022 and has been their main designated hitter since 2020. That could mean more DH opportunities for Mike Trout in 2024.
Who else is in the running for Ohtani?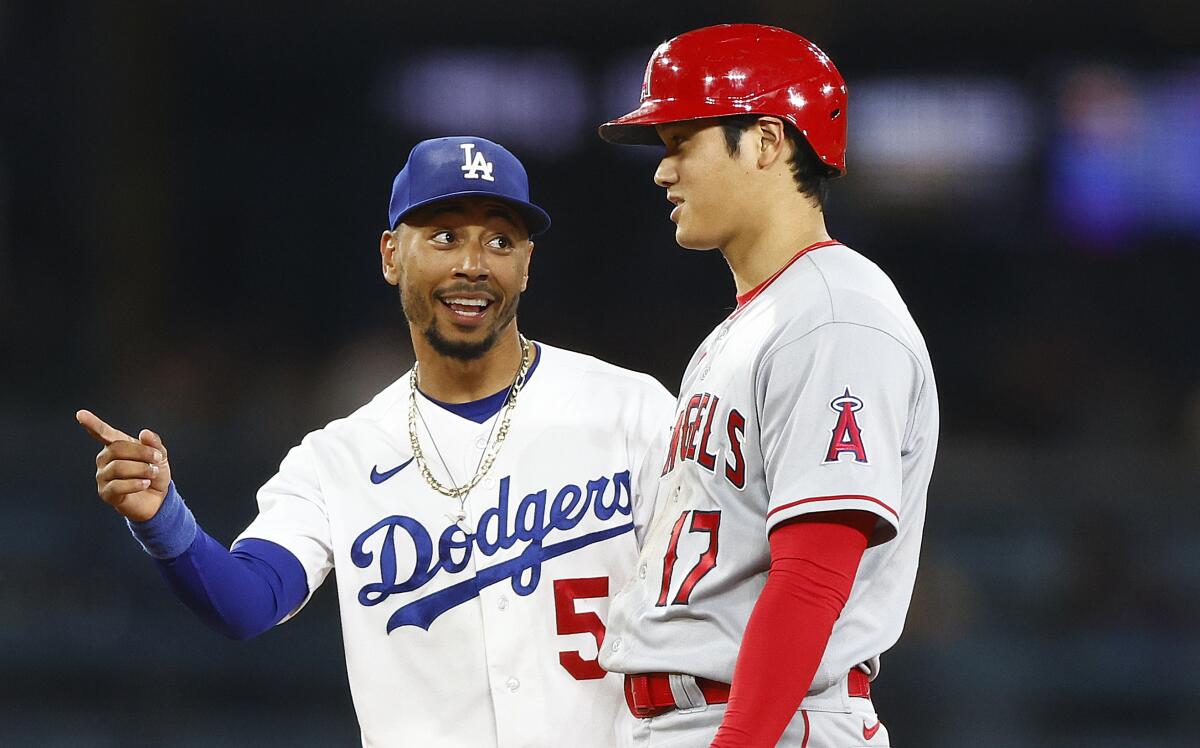 The Dodgers, who have been trying to sign Ohtani since he was in high school, are expected to be among the top contenders for his services. While Ohtani is expected to draw interest and hear offers from many teams, some specific ones that have been mentioned include the Boston Red Sox, New York Mets, San Francisco Giants, Seattle Mariners and Texas Rangers — who in 2017 shared a statement, written by former Rangers GM Jon Daniels, on the club's disappointment when Ohtani picked the Angels and not Texas.
How quickly will Ohtani decide?
Only Ohtani knows when he would like to wrap up his free agency period and officially begin the down time of his offseason. If the timetable from when he first signed with the Angels — Ohtani was officially posted by his Nippon Professional Baseball team Dec. 1, 2017, and he signed with the Angels on Dec. 8, 2017 — is any indication of Ohtani's preference for handling his business, perhaps his free agency period will be short.
How healthy will Ohtani be for the team with which he signs?
Ohtani, who had a surgery to repair the tear on his right ulnar collateral ligament on Sept. 19, will be able to resume designated hitter responsibilities in time for the start of the 2024 season. He will not be able to pitch again until the 2025 season. Hitting, according to multiple doctors, does not impact the ulnar collateral ligament the same way pitching does. It is why Ohtani continued as a DH even after tearing his UCL on Aug. 23. Ohtani, who tore his UCL in 2018, also resumed DH responsibilities by May 2019 after having Tommy John surgery in the offseason. He did not return to a mound to pitch a game until the 2020 season.
What will his impact be on the market?
"The Unicorn" is the nickname that was given to Ohtani to capture just how rare a player he is. It is also the nickname some around the industry have used to describe Ohtani's presence in the free-agent market. Despite his mending UCL, for what he has proven on the mound and at the plate, Ohtani will be able to call all his own shots.
As one agent, granted anonymity to speak freely, pointed out with regard to Ohtani's leverage: "He can set parameters early on. He can say, 'Here are my benchmarks. If you don't meet these, I'm not gonna meet with you.' " And Ohtani's market value is still expected to be as robust as any in history, possibly getting him a record-setting contract.

Bingo Blitz Credits Farming Strategies: Success Tips
Coin Master Spins Farming Strategies: Insights from Pros
genshin impact redeem codes january 2023 mobile matters
Get Free Zems on ZEPETO: Tips and Tricks
match masters arena 7 funny game like paper clash royale what
TikTok Coin Generator Safety Tips
Unlimited Gems in Brawl Stars: Myth or Reality?
new cheats dragon city free gems mod generator freemind
free family island hack cheats unlimited rubies and energy
how to get diamonds in hay day tips tricks youtube
tutorial how i get unlimited diamonds in litmatch app youtube
myths of moonrise codes september 2022 g7r
Boost Your TikTok Influence with Free Coins
Unlocking TikTok Coins: Insider Techniques
Comment obtenir légalement et rapidement des pièces gratuites sur TikTok
Maximiza tus Ganancias de Monedas TikTok con Estos Consejos
Coin Master Free Spin Generators: Fact or Fiction?
Insights from Pros: Coin Master Free Spins Farming Strategies
Avakin Life Avacoins Farming Demystified