LeBron James pointed to the NBA championship trophies that can be seen through the glass window inside the office of Lakers owner Jeanie Buss and said that adding another to the franchise's collection of 17 is his motivation.
James is entering Year 21 of his illustrious career and his juices still flow because he wants that fifth championship and he wants the Lakers to raise another banner that would break the tie they have with the hated Boston Celtics.
And yes, James said, he has always been "self-motivated," but he also said that this 2023-24 version of the Lakers motivates him some more because they have the talent and potential to win the championship.
"I just think for one, it's just my motivation to continue to be as great as I can be and solidify what I want to do in my career and still seeing that Larry O'Brien Trophy in my mind on a daily basis," James said. "So, that's one of the best four moments of my career, being able to hoist up that trophy. So, that's motivation alone.
"But also wanting to be legendary in this game and let my game speak for itself long after I've played. But this team has motivated me as well. Coming to practice every day, seeing the guys go to work every day, challenging each other, trying to get better every day. Implement what we want to do. And so, that's been motivating as well."
James said it is not the trash-talking from opponents that push him, even those from the Nuggets, the team the Lakers open the regular season against Tuesday night in Denver.
On the other hand, his three kids — sons Bronny, 19, and Bryce, 16, and daughter Khuri, 8 — have motivated him. James said at media day that "obviously I'm going to dedicate this season to Bronny because of the incident that happened this summer."
Bronny, a 19-year old freshman at USC, suffered cardiac arrest this summer during a team workout in an incident probably caused by a congenital heart defect. Bronny is doing well after he underwent successful surgery and is working toward returning to the court for the Trojans this season.
Bryce plays basketball at Campbell Hall and Zhuri plays volleyball.
Family, James said, is important to him.
"That's kind of the motivation I'm getting right now. I don't get motivated against the opponents pretty much anymore," James said. "I don't need it. I don't want to say I don't get motivated to play, because I do get motivated to go against the competition, I love competing against the best. But I don't need an individual or a team to motivate me. I'm self-motivated. I'm enough. But my kids, that's my outside force for me."
James, who turns 39 in December, will begin his sixth season with the Lakers. He won an NBA championship with them in 2020.
He knows the Lakers had some of the greatest players the NBA has ever seen — Kobe, Magic, Kareem, Shaq, Jerry West, Wilt — all of whom are revered.
So, James was asked, how have you become a Laker?
"I don't know how I've become a Laker. I don't know how to answer that question," he said. "But when I came here I felt like I didn't just want to be here just for a short stint. I came in with the notion that one, I wanted to help this franchise get back to the postseason. And I think before I got here, I don't think they had made it in the last five or six postseasons. And be able to put another one of those Larry O'Brien Trophies back in Jeanie Buss' office. And I was able to do that. So, everything else has been extra credit for me.
"As far as my personal goals, I want to continue to win. I want to continue to add on to that. I want to continue to hopefully move one of those Larry O'Brien Trophies to the side and put another one up. But to the point of how I've become a Laker, whatever the case may be, that's for everybody else. But for me, I know my job has been to…This franchise is always going to be relevant, but also, just more relevant in a basketball sense on the floor. We've done that since I got here."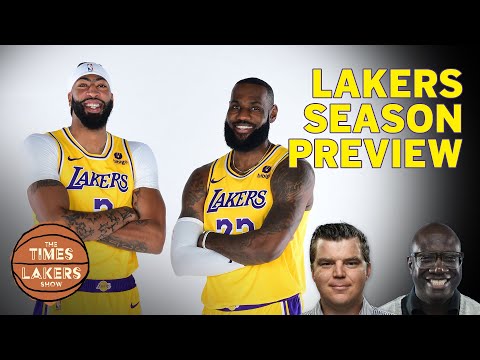 James said the right foot injury that kept him out of 27 games last season is "great."
It took some time for that to happen.
"I didn't have to think about it as much," he said. "It's great to have that feeling, just have your motor back."
The Nuggets swept the Lakers in the Western Conference finals and wound up winning the NBA championship, and have been taking smack since.
When the Nuggets had their victory parade, Denver coach Mike Malone was introduced as "the Lakers' daddy."
Malone had some fun with James hinting at retirement after the Lakers lost to the Nuggets.
"Speaking of the Lakers, I just want you guys to know — this is breaking news — I'm thinking about retiring, so don't tell anybody," Malone said as a guest on "The Pat McAfee Show."
It appeared as if James, without saying his name, addressed Malone on his Instagram in June, "I hear I'm on your mind that much, huh??? I mean I guess I see why. … Enjoy your light but just know I'm the SUN."
James was asked Saturday about all the talk about him over the years and what his response will be to the Nuggets or anyone else.
"Um, I don't know," he said. "There will be a time. When that time is, I don't know. I don't know if it's now or … there will be a time. There will be a time when everybody will get it, for sure."
Etc.
Lakers coach Darvin Ham said after practice Saturday that guard Gabe Vincent (tight back) practiced and is available for the season opener, but that forward Jarred Vanderbilt (sore left heel) "in all likelihood he probably won't be available" for the game at Denver. Ham also said that rookie guard Jalen Hood-Schifino (sore right knee) is still being evaluated.
Bingo Blitz Credits Farming Strategies: Success Tips
Coin Master Spins Farming Strategies: Insights from Pros
genshin impact redeem codes january 2023 mobile matters
Get Free Zems on ZEPETO: Tips and Tricks
match masters arena 7 funny game like paper clash royale what
TikTok Coin Generator Safety Tips
Unlimited Gems in Brawl Stars: Myth or Reality?
new cheats dragon city free gems mod generator freemind
free family island hack cheats unlimited rubies and energy
how to get diamonds in hay day tips tricks youtube
tutorial how i get unlimited diamonds in litmatch app youtube
myths of moonrise codes september 2022 g7r
Boost Your TikTok Influence with Free Coins
Unlocking TikTok Coins: Insider Techniques
Comment obtenir légalement et rapidement des pièces gratuites sur TikTok
Maximiza tus Ganancias de Monedas TikTok con Estos Consejos
Coin Master Free Spin Generators: Fact or Fiction?
Insights from Pros: Coin Master Free Spins Farming Strategies
Avakin Life Avacoins Farming Demystified