CORVALLIS, Ore. — 
The education of Dante Moore has resembled a painful lesson written over and over on a blackboard.
It's hard to win when you throw a pick-six.
It's hard to win when you throw a pick-six.
It's hard to win when you throw a pick-six.
For a third consecutive game, the UCLA freshman quarterback had an interception returned for a touchdown.
For the second time in those three games, his team was unable to overcome that critical blunder.
This pick-six was one of three passes Moore had intercepted Saturday during the No. 18 Bruins' dreary 36-24 loss to No. 15 Oregon State that raised more questions about the freshman's decision-making.
In three Pac-12 games, Moore has twice as many interceptions (six) as touchdown passes (three). Even with UCLA's running game piling up 284 yards and backup quarterback Collin Schlee mixing in effectively as a change-of-pace option, the Bruins could not overcome those interceptions. Schlee suffered an unspecified injury and did not play in the fourth quarter.
In a fitting end to UCLA's comeback hopes, Moore limped off the field after a sequence in which he was sacked on back-to-back plays and his fourth-down pass to Logan Loya was well short of a first down with 15 seconds left.
A shaky showing in which Moore completed 15 of 34 passes for 168 yards with one touchdown to go with those interceptions likely eliminated the Bruins (4-2 overall, 1-2 Pac-12) from conference title contention before Halloween.
Some blame also belonged to UCLA's defense and perhaps coach Chip Kelly for his refusal to rely more heavily on his running game in the first half. Running back Carson Steele ran for 82 of his 110 yards after halftime while getting 16 of his 22 carries in the second half.
For the first time this season, the Bruins' defense bent a bit, giving up multiple touchdowns to an opposing offense. Twice, UCLA blew coverages on Oregon State tight end Jack Velling resulting in touchdowns, including a 32-yard score that gave the Beavers a 36-17 lead late in the third quarter.
Kelly's weeklong warnings about play-action passes couldn't prevent the Bruins from getting burned on a 43-yard connection from D.J. Uiagalelei to Silas Bolden that gave Oregon State a 29-10 lead early in the third quarter.
But Moore's mistakes were the primary culprit in UCLA's second loss in its last three games.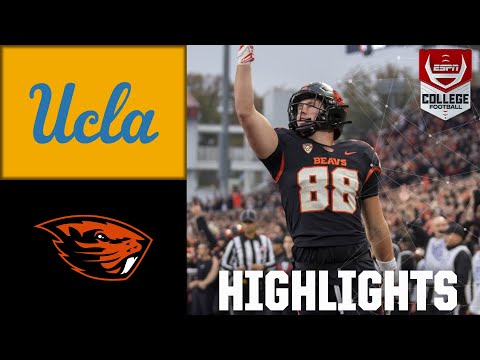 The backbreaker came in the final minute before halftime, after Moore had run 16 yards to move UCLA into Oregon State territory. The Bruins were down by just six. A touchdown would have given them the lead even after Moore had ended two previous drives with interceptions.
Moore took the snap and immediately locked on to his favorite receiver, J.Michael Sturdivant, near the sideline. Beavers defensive back Ryan Cooper Jr. immediately read the play and got a jump on the pass, snagging it on his way to a 70-yard interception return for a touchdown.
Oregon State's lead was 23-10 and the pats on Moore's helmet as he walked back to the sideline could do nothing to console him.
Moore continued another bad habit of throwing the ball up for grabs while being hit, leading to an interception late in the first quarter.
There were moments of promise as well. Moore converted two fourth-down plays and fired a nifty, 10-yard touchdown pass to Logan Loya while under heavy pressure in the second quarter. After replacing Moore on select plays on earlier drives, Schlee jogged onto the field and guided the Bruins to a quick response featuring all running plays and a handful of quarterback runs, including a 28-yard carry to the Beavers' nine-yard line. Running back T.J. Harden sprinted into the end zone on the next play, pulling UCLA within 29-17.
Moore's growing pains continued practically from the opening kickoff. For the third consecutive game, he threw an interception on the first drive. This time Moore made the mistake of throwing across his body while rolling out on two consecutive plays.
On the first play, Moore's pass was nearly intercepted by Oregon State safety Akili Arnold. On the next play, which was almost identical, Arnold made the interception and returned it 13 yards to UCLA's 33-yard line. It was the start of a dreadful evening that didn't get much better for the Bruins.
Bingo Blitz Credits Farming Strategies: Success Tips
Coin Master Spins Farming Strategies: Insights from Pros
genshin impact redeem codes january 2023 mobile matters
Get Free Zems on ZEPETO: Tips and Tricks
match masters arena 7 funny game like paper clash royale what
TikTok Coin Generator Safety Tips
Unlimited Gems in Brawl Stars: Myth or Reality?
new cheats dragon city free gems mod generator freemind
free family island hack cheats unlimited rubies and energy
how to get diamonds in hay day tips tricks youtube
tutorial how i get unlimited diamonds in litmatch app youtube
myths of moonrise codes september 2022 g7r
Boost Your TikTok Influence with Free Coins
Unlocking TikTok Coins: Insider Techniques
Comment obtenir légalement et rapidement des pièces gratuites sur TikTok
Maximiza tus Ganancias de Monedas TikTok con Estos Consejos
Coin Master Free Spin Generators: Fact or Fiction?
Insights from Pros: Coin Master Free Spins Farming Strategies
Avakin Life Avacoins Farming Demystified