One yard. One measly yard.
That was all Washington State needed to sustain a drive and its comeback hopes against a UCLA defense that hadn't given it much of anything all afternoon.
Cougars quarterback Cameron Ward took the snap and hesitated for a moment on the fourth-down play, searching for an opening. He burst toward the line of scrimmage, running into a wall of blue and gold.
Once again, there was nothing there.
Dragged down for no gain as the decibel level soared inside the Rose Bowl, Ward rose slowly as Bruins defensive lineman Gary Smith III and linebacker Kain Medrano excitedly pumped their arms.
The only thing left for the UCLA defense to do Saturday was celebrate its role in a stunning 25-17 comeback victory over the No. 13 Cougars. The cheers were a much more pleasant soundtrack than the boos that had filled the place after the Bruins failed to gain a first down on their first two drives of the second half.
On a day that freshman quarterback Dante Moore sputtered and an unlikely hero revived the Bruins' running game with two fourth-quarter touchdowns, it was the defense that was the big story.
The Bruins forced a season-high four turnovers and held a passing attack that was ranked second in the nation to only 204 yards, barely over half its average of 405.8. Ward also had his first two passes of the season intercepted while completing just 11 of 27 passes. The Cougars ran for 12 yards and averaged 0.6 yards per carry.
"It was a total team defense that shut them down," UCLA coach Chip Kelly said.
It might be time to tear up the contract of UCLA defensive coordinator D'Anton Lynn and hand him something significantly better. Through five games, the Bruins (4-1 overall, 1-1 Pac-12) are giving up just 12.2 yards per game. UCLA's defense has only given up two touchdowns combined in two Pac-12 games.
UCLA outgained Washington State, 482-216, in yardage and would have blown out the Cougars (4-1, 1-1) had it not been for Moore's two interceptions, including a second consecutive game with an interception returned for a touchdown.
1
2
3
1. UCLA defensive lineman Gary Smith III celebrates after the Bruins stop Washington State on a fourth-and-one in the second quarter. 2. UCLA running back Carson Steele breaks free for a first down the third quarter. 3. UCLA linebacker Gabriel Murphy closes in to sack Washington State quarterback Cameron Ward in the third quarter. (Luis Sinco / Los Angeles Times)
Fortunately, he had some considerable help on offense. Repeatedly bowling over defenders while refusing to go down on initial contact, UCLA's Carson Steele ran for 140 yards in 30 carries … and was upstaged by a teammate listed as a wide receiver.
Keegan Jones ran for two touchdowns out of the slot on sweeps to help the Bruins overcome a 17-12 deficit entering the fourth quarter. The converted running back sprinted for a 13-yard touchdown early in the fourth quarter, giving UCLA an 18-17 lead after Moore was stuffed on the two-point conversion.
After Bruins linebacker Oluwafemi Oladejo tipped a Ward pass to himself for an interception on the next play, Jones eventually ran for a 22-yard touchdown with 11:45 left that gave his team some breathing room.
Was there a special call for those Jones runs?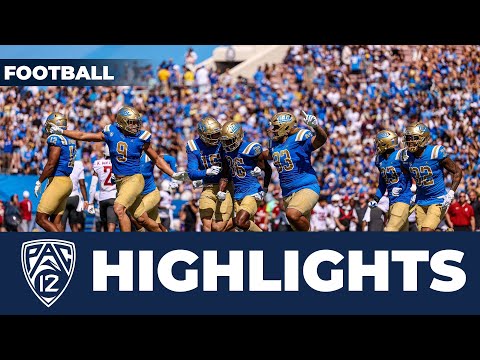 "It's just called touchdown," Steele said with a smile.
There was no need for any late drama.
With UCLA on the verge of taking a commanding lead into halftime, one Moore pass changed everything.
The Bruins were on the five-yard line, trying to build on a 9-3 lead, when Moore threw a third-down pass into the hands of Washington State's leaping Kapena Gushiken.
"He was like a flying squirrel," Moore said. "He jumped in the air, wings out, I threw the ball and he picked it."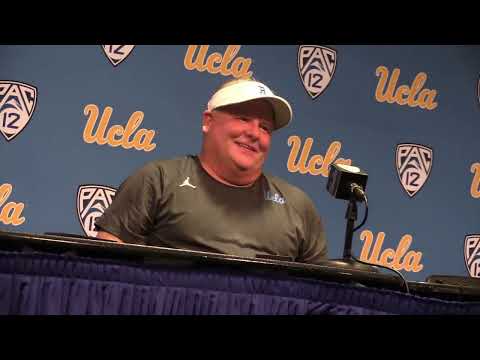 The defensive back won a footrace with Moore to the end zone, the 88-yard interception return for a touchdown giving the Cougars a 10-9 advantage with seven seconds left before halftime. It was Moore's second interception of the game after he had thrown a pass up for grabs while under pressure in the first quarter.
But with a major assist from Kelly, who repeatedly called for rollouts and quick passes, Moore finished with a much better showing than he had two weeks ago against Utah. The quarterback said he had spent the bye week speaking with his coach about plays that best fit his capabilities.
"If I said, 'Coach, this play isn't really fitting with me,' he would just cancel it off," Moore said, "so that's why I really appreciate coach Kelly for the hours that we spend together."
1
2
3
1. UCLA coach Chip Kelly talks with quarterback Dante Moore in the fourth quarter. 2. UCLA quarterback Dante Moore throws against Washington State in the fourth quarter. 3. UCLA running back Anthony Adkins breaks a tackle by Washington State defensive back Kapena Gushiken in the fourth quarter. (Luis Sinco / Los Angeles Times)
Moore also had an impromptu sideline mentor in former UCLA quarterback Dorian Thompson-Robinson, who gave him advice during the game. Thompson-Robinson was able to attend the game because his current team, the Cleveland Browns, is off this week.
"He said to keep your composure," said Moore, who completed 22 of 44 passes for 290 yards with one touchdown and two interceptions while being sacked four times. "You know, just keep breathing out there."
Thanks to his defense, Moore could exhale deeply when it was over.
Bingo Blitz Credits Farming Strategies: Success Tips
Coin Master Spins Farming Strategies: Insights from Pros
genshin impact redeem codes january 2023 mobile matters
Get Free Zems on ZEPETO: Tips and Tricks
match masters arena 7 funny game like paper clash royale what
TikTok Coin Generator Safety Tips
Unlimited Gems in Brawl Stars: Myth or Reality?
new cheats dragon city free gems mod generator freemind
free family island hack cheats unlimited rubies and energy
how to get diamonds in hay day tips tricks youtube
tutorial how i get unlimited diamonds in litmatch app youtube
myths of moonrise codes september 2022 g7r
Boost Your TikTok Influence with Free Coins
Unlocking TikTok Coins: Insider Techniques
Comment obtenir légalement et rapidement des pièces gratuites sur TikTok
Maximiza tus Ganancias de Monedas TikTok con Estos Consejos
Coin Master Free Spin Generators: Fact or Fiction?
Insights from Pros: Coin Master Free Spins Farming Strategies
Avakin Life Avacoins Farming Demystified