As Clayton Kershaw considered why he was in position to pitch in another postseason, he thought of his manager.
Dave Roberts managed Kershaw's workload by spacing out his starts and limiting his innings over the last two months of the regular season, but that wasn't what Kershaw appreciated most. When Kershaw returned from a shoulder injury in August, he was afraid he would be a burden. He had always prided himself on pitching into the late innings and giving relievers a day to recover. Now, he feared the opposite would happen, that by making four- or five-inning starts, he would exhaust the bullpen.
Roberts assured him that wouldn't be the case.
"It's not gonna be a burden," Kershaw recalled Roberts telling him. "We're gonna have guys."
Eight seasons into their working relationship, Roberts understood how Kershaw was driven by a sense of responsibility to his team. Roberts knew what to say to him and how to say it, which changed how Kershaw viewed the task of preparing for October while minimizing the chances of further damaging his shoulder.
"For me," Kershaw said, "it gave me some peace of mind to go out there and just pitch."
The Dodgers registered their fifth 100-win season in their eight years under Roberts and won the National League West by 16 games over the Arizona Diamondbacks. Their continued regular-season dominance made them look like a machine that operates on autopilot, but that wasn't the case. Someone had to be in control and that someone was Roberts, who performed the finest work of a managerial career that already counts 753 victories.
"He motivated this group through a lot of adversity," said Andrew Friedman, the president of baseball operations.
Kershaw's uncertain status was just one of several developments that could have derailed the Dodgers. Their roster was overhauled over the winter, and the team didn't look as talented as it was in previous years. No major additions were made at the trade deadline. No. 1 starter Julio Urías vanished after he was arrested last month on suspicion of felony domestic violence. Fellow starters Tony Gonsolin and Dustin May were lost to season-ending injuries. Walker Buehler didn't recover from an elbow operation in time to pitch this year.
In a year of upheaval, Roberts was a stabilizing force.
"Every day is the same, you know?" first baseman Freddie Freeman said. "That's the beauty of [Roberts]. No matter if we've lost three games in a row or four out of five or we're not getting hits with runners in scoring position or we're giving up a lot of home runs like we were at the beginning of the year, you can count on Doc to work hard every single day, and that's what you need. That's why he's been so good for so long."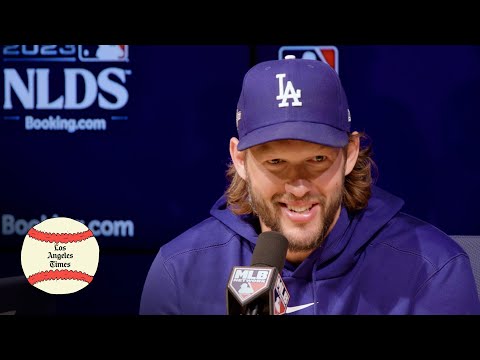 The Dodgers won 100 games this year because they have good players. They hit on bargain free agents such as J.D. Martinez and Jason Heyward. Some of their prospects were more major league-ready than anticipated. Friedman knows better than anyone in baseball how to construct teams that win in the regular season. Couldn't anyone win with this team? Does the manager really matter?
"For sure a manager matters," Freeman said. "There's so much more that goes into being a manager than just the baseball aspect. It's managing people and Doc is as good as you can get managing people and knowing his players and caring about his players. When you have somebody who cares like that, it's easier to play baseball and be able to perform on the field."
To better appreciate what Roberts did this season, consider what his team didn't do.
They didn't have a venomous clubhouse environment that poisoned their championship ambitions, as the Padres did. They didn't unravel in the wake of losing key players, as the Yankees did. The Dodgers didn't crumble under the weight of their payroll, as the Mets did.
Year after year, the Dodgers have avoided the self-inflicted damage that has kept some talented teams from realizing their potential.
"His relentless optimism has been steady throughout the years," Friedman said.
Roberts broke in rookies such as Bobby Miller and James Outman. He integrated veteran role players, including Miguel Rojas and Heyward.
The key, in Rojas' estimation, was communication.
"We have three or four players who are in there every single day," Rojas said. "We have a team that has a lot of role players. We understand our jobs and I think they've just been really good being open and being really honest about the expectations for everybody."
Rojas said he received a call from Roberts shortly after the Dodgers acquired him from the Marlins in the offseason.
"He expressed the needs of the team at the time," Rojas said. "Going into spring training, I was going to play a little bit of everything, different positions."
But when the projected starter at shortstop, Gavin Lux, went down in camp with a season-ending knee injury, Roberts called Rojas into his office and informed him about a change in plans. Rojas became the team's primary shortstop.
"At the beginning of the year, I was dealing with some injuries," Rojas said. "He needed to make sure I understood there would be off days for me to recover and be 100% for this time of the year."
Roberts also communicated with the team's stars. Aware of how much Freeman wanted to play every game, Roberts never held him out of the lineup, except in the game after the Dodgers clinched the division title. But he also warned Freeman that his days of playing every day won't last forever, that he will have to take days off as he ages.
"I think that's what's so good about him," Freeman said. "He creates the relationship. Then when he says something and it's, like, 'OK, yeah, you're right.'"
Trust will again be an important factor in the postseason, as the Dodgers will attempt to win a World Series in a way no team before them has. With Kershaw still dealing with shoulder problems, they don't have a traditional Game 1 starter who can take down seven innings. In fact, they might not have a single pitcher who could be counted on to pitch five. Every game they play will be a bullpen game, with the team counting on a patchwork of openers, swingmen and relievers to register 27 outs. Roberts will be the in-uniform representative of the team's brain trust, and his credibility will be critical in selling its vision to the players.
Whatever happens over the next few weeks, the season will go down as a memorable one for Roberts. In spring training, he spoke about rediscovering his love of his job. The season lived up to his expectations.
"The injuries, all of the young guys coming up, on the surface is challenging," Roberts said. "But I think as a coach, that's pretty exciting because you get a chance to teach young players and assimilate them into the club.
"It's been my most exciting year."
It's also been his best.
Bingo Blitz Credits Farming Strategies: Success Tips
Coin Master Spins Farming Strategies: Insights from Pros
genshin impact redeem codes january 2023 mobile matters
Get Free Zems on ZEPETO: Tips and Tricks
match masters arena 7 funny game like paper clash royale what
TikTok Coin Generator Safety Tips
Unlimited Gems in Brawl Stars: Myth or Reality?
new cheats dragon city free gems mod generator freemind
free family island hack cheats unlimited rubies and energy
how to get diamonds in hay day tips tricks youtube
tutorial how i get unlimited diamonds in litmatch app youtube
myths of moonrise codes september 2022 g7r
Boost Your TikTok Influence with Free Coins
Unlocking TikTok Coins: Insider Techniques
Comment obtenir légalement et rapidement des pièces gratuites sur TikTok
Maximiza tus Ganancias de Monedas TikTok con Estos Consejos
Coin Master Free Spin Generators: Fact or Fiction?
Insights from Pros: Coin Master Free Spins Farming Strategies
Avakin Life Avacoins Farming Demystified