He was running to his left. He was throwing to his right. He was leaving his feet.
The ball nonetheless flew out of his hand as if he were a shortstop firing from the hole. It soared downfield over long swaths of green, over the heads of stunned defenders and into the outstretched arms of a wide open receiver, running untouched into the end zone.
It was brash. It was beautiful. It was pure Caleb. It was all Heisman.
The 71-yard touchdown pass from USC quarterback Caleb Williams to Tahj Washington early in the Trojans' 48-41 victory at Colorado Saturday was an opening salvo that evolved into a striking mandate.
The defending Heisman Trophy winner is once again the best football player in the country.
Williams is not only having an encore season, he's having a better season.
He now deserves to be the clear leader in a Heisman race that should be his to lose.
Just give him the award already.
"Things have been working," Williams admitted during the postgame news conference with his usual understatement. "You have to keep going, keep working hard, that's the only way things keep being smooth and feeling that way."
Smooth? Yeah, smooth, as in, he stared down an uneven Colorado defense and flattened it.
In a game that eventually needed every bit of his greatness, Williams threw for 403 yards and tied a career-high with six touchdowns while marred only by his first interception of the year. He was not only good enough to overcome Colorado's tacklers, he was good enough to overcome his own team's lack of tacklers.
Full disclosure, this column was initially going to be about that Trojan defense. It was going to blast defensive coordinator Alex Grinch and a group that allowed 564 yards to an offense that gained 199 yards the previous week against Oregon. The tackling was so bad even by Lincoln Riley standards that it was the most yards allowed by USC since he arrived last year.
"That was embarrassing, honestly," safety Bryson Shaw told reporters.
If Colorado had not been beset by bad game management and shaky play calling, the Buffs might have overcome a 27-point deficit and caught the Trojans after a strong second half, and this column was going to be about the long-term fears born of a defense that is far from national championship caliber.
But do you really want to read the same thing again and again? Every week this space could feature a rip of the Trojan defense. Every week the criticism will continue until Riley becomes more actively involved in the defensive leadership and perhaps makes some hard but necessary changes.
"No, it doesn't look like last year." claimed Riley, who reiterated his support of Grinch. "There's a lot that's improved."
Truthfully, it looks exactly like last year. But instead of focusing again on that mess, let's focus on one USC player who wins when the defense loses. At this rate, Williams will have to remain in games and throw for 400 yards every week even for the Trojans to have a chance. His numbers will be astronomical. He will have to carry this team while bearing a sense of responsibility shared by none of the other top Heisman candidates.
"Yeah, we're always in it with Caleb," said Shaw.
Williams arrived Saturday in the perfect spot to make his season's first statement that he deserved to overcome the tugs of history and win the second Heisman that has eluded nine other Heisman winners who returned to college.
This was the place, Boulder's rocking Folsom Field, ground zero for college football madness. This was the opponent, new coach Deion Sanders having turned the rebuilt Buffaloes into the most-watched college football team in years. This was the time, national viewers crowded around their television sets with the game kicking off at 12 p.m. Eastern Time.
It was all set up for Williams to show up and show out and reclaim the lead for a second straight award that has eluded nine other Heisman winners.
He did more than that. He did his best Patrick Mahomes.
Running everywhere. Throwing from every angle. Commanding the field while doing things that only the defending MVP and Super Bowl champion Mahomes can do.
Hitting Dorian Singer between two defenders for an eight-yard touchdown pass. Hitting Mario Williams on a perfect 24-yard strike over a linebacker.
A couple of darts to Brenden Rice for scores of 26 yards and six yards. A sweet lob to backup tight end Jude Wolfe for three yards to complete the scoring.
And, later, like the Kansas City's Mahomes, he threw bouquets to everyone but himself.
"A lot of credit goes to the offensive line. You can't have however many passing yards I had or touchdowns, you can't have as many rushing yards as we had without them," he said. "Wide receivers catching the ball, doing their job. Running backs, carrying out fakes and things like that. It's a team effort for me to go out there and put up those numbers."
He did more than put up numbers, he landed daggers.
Williams threw for touchdown passes after the Buffs missed a field goal and had a punt blocked, making them pay for their sins. Although the Trojans didn't score in the fourth quarter, he stayed on the field long enough late in the second half to keep the lousy Trojan defense off it and secured the victory.
But you also want numbers? After five games Williams has accounted for 24 touchdowns with just one turnover while completing 75 percent of his passes.
Williams is so good again, even better than last season at this point, that there is sometimes a ho-hum feeling watching him. It sometimes takes games like Saturday to fully appreciate what is being witnessed.
"People definitely take what he does for granted, and it won't be until he leaves, that people will really realize the greatness that they're watching and what they really get to come out here and see every single day," said Rice.
After the game I received a text from a longtime observer who said Williams was the best college football player he had seen since Herschel Walker. In my return message, I trumped that.
Caleb Williams is the best college football player I've seen, period, and I experienced nearly every moment of Reggie Bush.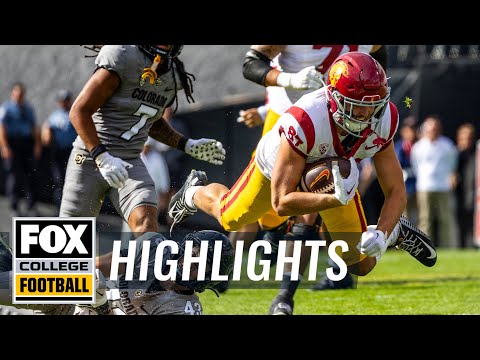 Saturday made it clear he will win the Heisman again — hello, Archie Griffin — and he's already been anointed as the first pick in next spring's NFL draft. Here's where it gets interesting.
Arguably the worst team in the NFL right now is the Chicago Bears. They could be looking for a quarterback and a coach. Wonder if Caleb Williams and Lincoln Riley would go there as a package deal?
No matter where Williams ends up, and his father Carl has subtly and smartly threatened a power play to make sure his son goes to the best possible market, he still has several months remaining here and it's best to cherish them.
Who knows, at this rate one Saturday he might even equal Houston's David Klingler's NCAA record of 11 touchdown passes in one game.
And the Trojans will win, 77-76.
Bingo Blitz Credits Farming Strategies: Success Tips
Coin Master Spins Farming Strategies: Insights from Pros
genshin impact redeem codes january 2023 mobile matters
Get Free Zems on ZEPETO: Tips and Tricks
match masters arena 7 funny game like paper clash royale what
TikTok Coin Generator Safety Tips
Unlimited Gems in Brawl Stars: Myth or Reality?
new cheats dragon city free gems mod generator freemind
free family island hack cheats unlimited rubies and energy
how to get diamonds in hay day tips tricks youtube
tutorial how i get unlimited diamonds in litmatch app youtube
myths of moonrise codes september 2022 g7r
Boost Your TikTok Influence with Free Coins
Unlocking TikTok Coins: Insider Techniques
Comment obtenir légalement et rapidement des pièces gratuites sur TikTok
Maximiza tus Ganancias de Monedas TikTok con Estos Consejos
Coin Master Free Spin Generators: Fact or Fiction?
Insights from Pros: Coin Master Free Spins Farming Strategies
Avakin Life Avacoins Farming Demystified