Destination Ivy League is not for every athlete. There are no athletic scholarships. There are no free meals. There are no special dorms. There's rarely national TV exposure. Most importantly, "Academics definitely comes first," said Cornell quarterback Jameson Wang.
Ivy League football teams begin their annual 10-game schedule this week, with 40 former high school players from the Southland listed on rosters. In many ways, it's becoming the last bastion for an old-school Division I college experience based on love for the game and a four-year focus on earning an Ivy League degree that can open doors for eternity.
"It was the best decision I've ever made," Wang said. "I've really enjoyed my experience."
It took some time for Wang to reach the Ivy League. In high school, he attended Harvard-Westlake, then transferred to Oaks Christian while seeking to play at a higher level. Then he chose the Air Force Academy prep school.
"At the end of day,10 years of commitment was too much," he said.
Coastal Carolina recruited him, but he ended up picking the Ivy League school in Ithaca, N.Y. No more dreams of playing big-time football. But there would be four seasons to experience, practicing in near-freezing temperatures and taking classes that would prepare you for working in the hospitality business.
"It's way different than Los Angeles," Wang said. "You experience the four seasons. Hot in the summer, cold mornings with snowfall. I've adapted. I don't complain. I embrace it."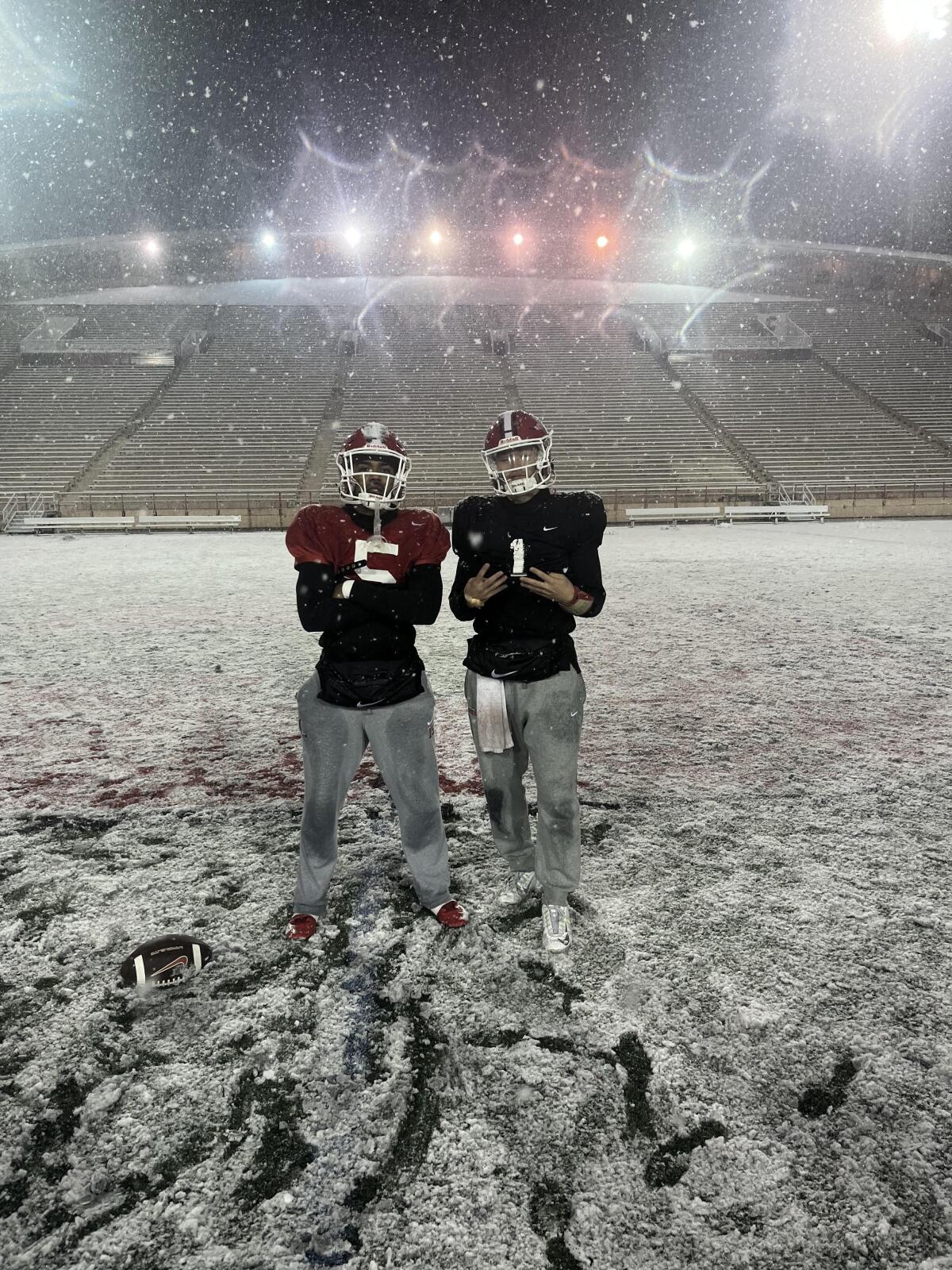 Wang has a photo with former Cornell and Harvard-Westlake teammate Thomas Glover showing them together in practice gear with the field completely covered with snow following a big storm.
"The best part of Ithaca is that it lets me focus on football," said Wang, who is 6-feet-1 and 205 pounds with the ability to run and pass. "You're four hours from New York City, six hours from Boston."
There was no guarantee Wang would be successful playing quarterback at Cornell. He remembers the first home game in 2021 while sitting in the bleachers in street clothes.
"The next two games are away games and I was watching from my dorm room," he said. "We're 0-3. Next week, we go to Harvard and not only do I get to travel, I get to play."
He ended up leading Cornell in rushing as a freshman with 349 yards. As a sophomore last season, he had an Ivy League-best 22 touchdowns (14 passing, eight rushing).
He's the kid from El Segundo who enjoys meeting his fellow Southern California natives when he runs into them after playing Princeton, Harvard, Yale, Dartmouth, Columbia, Pennsylvania and Brown.
Columbia has the most former Southland players at seven. Sherman Oaks Notre Dame leads high schools with four former players on rosters. Wang said strong academics at Harvard-Westlake helped prepare him for Ivy League classes. He's taking a variety of classes for the hospitality business, from learning about casino operations to wine and cooking classes.
He has concluded about his football and academic experience, "You can't beat it. You go for the academics, you go for the degree. Football is going to play itself out as your backup. That's what you come here for. You're set up for the rest of your life even when football is over."