When Teagan Burrus took a knee to run the final seconds off the clock Saturday evening at Beckman High, she and her Woodbridge teammates celebrated as if they had just won the Super Bowl.
The Warriors avenged a 13-12 defeat on their home field 12 days earlier by beating Newport Harbor by an identical score to win the inaugural Beckman SoCal Flag Football Showcase in Irvine. Coach Mark Thompson's unit could be the best in Orange County, and a big reason is the contributions of four senior basketball players — Burrus, Hana Watanabe, Tori Zebko and Milan Heisdorf — who are excited to have another sport to play together.
"In the last game against them we went for two [points] but didn't get it, and this time it was the reverse — they went for two and missed," said Burrus, who plays power forward and center on the basketball team. "Last year we didn't have Hana in football, but she adds so much to our team. We're all athletic so we can do both sports."
Both semifinal games Saturday also came down to the wire, with Woodbridge topping Orange Lutheran in overtime and Newport Harbor edging crosstown rival Corona del Mar by one point.
Burrus has passed the Warriors to an 11-1 record. In Saturday's championship game, she fired a 25-yard scoring pass to Zoey Ceman for the first points, then hit Ceman in stride for a 50-yard touchdown and connected for a one-point conversion with Zebko, who made a diving catch at the pylon to give Woodbridge a 13-6 lead.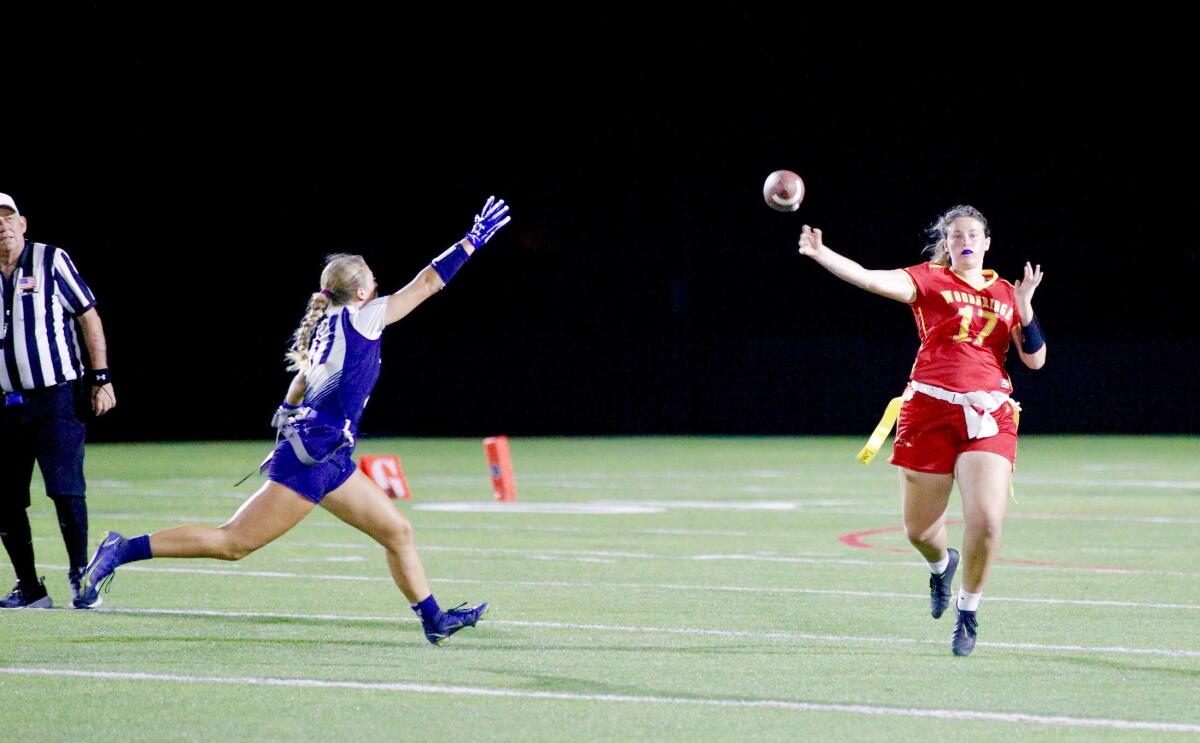 Newport Harbor tied the score 6-6 on a 20-yard strike from Maia Helmar to Maddy Michel. With time running out in the second half, the Sailors moved to the 10-yard line, where Helmar found Kate Kubiak in the back of the end zone. The conversion try fell incomplete, leaving the Sailors (9-1) one point behind.
"I played in the Winter Bowl in eighth grade at Great Park [in Irvine] and I've played club since my sophomore year," Burrus said. "I'm not the fastest, but I've always had an arm and I've always been a tomboy. I like being in control. Making a basket is great, but nothing beats the feeling of throwing a touchdown. Football requires a different level of IQ."
Watanabe, the point guard on the basketball team, plays center on offense and cornerback on defense — a new position she finds challenging. "I'm mad that they scored on me," she said.
She has been playing basketball much longer, but is glad she joined the flag football team.
"It's definitely different, but once I get better I think I'll like this more," Watanabe added. "Teagan and Milan convinced me and it's the best decision I've ever made. I showed up for tryouts and was just trying to catch every ball. It's a different game and requires different decision making."
Watanabe says being on the football team has strengthened the four girls' bond.
"In basketball, Teagan is usually our post and it's my job to get her the ball, whereas here I run a pattern and she has to find me," Watanabe said. "So our roles are reversed."
A shooting guard accustomed to filling the nets in basketball, Zebko plays receiver and safety for her current squad and considers catching a touchdown pass even more exhilarating than sinking a game-winning three-pointer.
"Definitely the touchdown feels better, although it's a completely different atmosphere," said Zebko, who has played basketball since she was 5 and started flag football at age 7 in the Matt Leinart youth league. "In basketball we're in a gym and there's a lot more people cheering, while out here it's pretty much just our parents watching. My family is all huge Michigan fans. I've grown up watching football."
Heisdorf, a wing on the basketball team and a center fullback on the Woodbridge soccer team, plays receiver and safety. She is one of the flag football team captains, having been one of 12 girls across the country selected to the 17U youth national team that captured the gold medal over the summer during a competition against teams from other countries.
"I've played rec league flag since second grade and my dad was my first coach so I was glad when it became sanctioned by CIF," said Heisdorf, who is headed to UC Irvine to play soccer after she graduates from Woodbridge. "It's hard to compare football and basketball, but in some ways football is harder. In basketball, there's a little more room for error in that if someone steals the ball, you can steal it right back. A lot translates and football opens up your spacial awareness more."