SAN DIEGO — 
Dante Moore lingered on the field to make the celebratory rounds. He held up a hand to acknowledge the throng of UCLA fans jammed into one corner of the stadium as the band blared before heading toward the locker room.
As the freshman turned the corner into a tunnel, he spotted a young boy dressed in Bruins blue with his father just above a nearby railing. Moore reversed course, walking over to give the father his glove for the boy and delivering a fist bump to them.
It was a sweet gesture, from one kid to another.
In a coming-of-age performance, Moore appeared to turn a competition into a coronation Saturday night. Awarded his first career start, he seized a job he may never give back.
"I've always thought college football was going to be amazing," Moore said afterward, "and it turned out, it is amazing."
Trumpeting his arrival more loudly than the pregame F-35 fighter jet flyover, Moore led the Bruins to a 35-10 victory over San Diego State at Snapdragon Stadium while appearing to make an airtight case to be named the permanent starter.
"He's going to be a star, 100%," said UCLA receiver Logan Loya, who hauled in one of Moore's three touchdown passes. "I mean, he already is."
A week after splitting time with Ethan Garbers, Moore was so good that Garbers went from the starter to not playing. Looking poised and polished, Moore completed 17 of 27 passes for 290 yards in only three quarters. His three touchdown passes tied the school record for a true freshman held by Cade McNown and Josh Rosen.
Even so, UCLA coach Chip Kelly refused to commit to Moore as his starter despite effusively praising him.
"He's special, he's a special player and to be as advanced as he is at his age is unique," Kelly said. "He's growing and he'll grow from this game and I think he'll be the first to tell you that."
Earlier in the week, Kelly said Moore would be one of three quarterbacks to play as the battle stretched into a second week. By halftime, there was no reason to go with anyone else.
Well, except in the final minutes of a blowout.
Moore helped the Bruins (2-0) roll up 358 yards of offense in the first half while having the ball for only 10 minutes 12 seconds thanks to one touchdown drive that took only 61 seconds and another that needed just 56 seconds. After a couple of empty game-opening drives, Moore maximized almost every opportunity in helping build a 28-10 halftime lead.
With the Bruins extending that advantage thanks to Moore's six-yard touchdown pass to Carsen Ryan late in the third quarter, Kelly finally went with backup quarterback Collin Schlee with 12:55 left in the game. Schlee showed his unusual blend of talents when he took off on a 23-yard run on his second play.
Asked what would be an argument for not starting Moore going forward, Kelly said, "Because I thought Collin did some really good things and I think Ethan Garbers is a really good quarterback and I think all three of those guys can help us win football games."
Most of the dazzling Saturday belonged to Moore. He read the defense perfectly when he faked a handoff to running back T.J. Harden before pulling the ball back and firing a pass to wide receiver Josiah Norwood for an 81-yard touchdown midway through the first quarter.
After San Diego State (2-1) tied the score, UCLA's hard-charging duo of running backs Carson Steele and Harden gave the Bruins some breathing room. As part of a T formation also featuring running backs Anthony Adkins and Colson Yankoff, Steele took a handoff and ran 13 yards for a touchdown on fourth and one.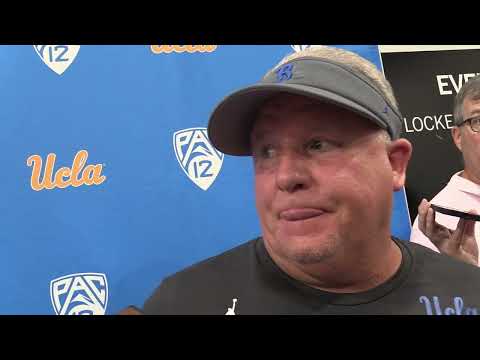 On UCLA's next drive, Harden converted a third and one when he sprinted 59 yards for a touchdown, putting the Bruins ahead 21-7. Moore made it 28-10 late in the second quarter when he connected with Loya on a 24-yard touchdown.
Moore had one slip-up midway through the third quarter when he had the ball stripped near the goal line. But UCLA's defense held firm, linebacker Darius Muasau intercepting a pass that went off the hands of a San Diego State receiver.
"They went on the field with the ball on the half-yard line and we came back with the ball," Kelly said, "so really happy and pleased with how those guys are growing on a weekly basis."
It was the second of three turnovers the Bruins forced — defensive back Alex Johnson also came up with two interceptions. Through two games, UCLA has generated six takeaways.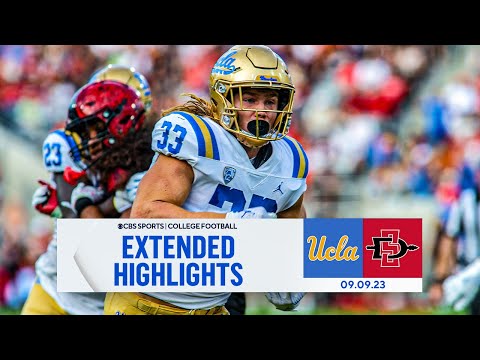 UCLA's biggest challenge might have come from San Diego State students seated near the field who heckled the Bruins and chanted an obscenity at them during warmups as they high-stepped in and out of the end zone.
By halftime, those students having fallen silent, a new message was warranted: Welcome, Dante.
Moore said giving the kid his glove was a gesture he was once on the receiving end of as a young fan at Michigan Stadium.
"I know what that feeling is," Moore said, "and I always want to make sure the people around me have that same feeling that I had when I was a kid."
He's growing up quickly. In his first start, an 18-year-old made a humbling game look like child's play.